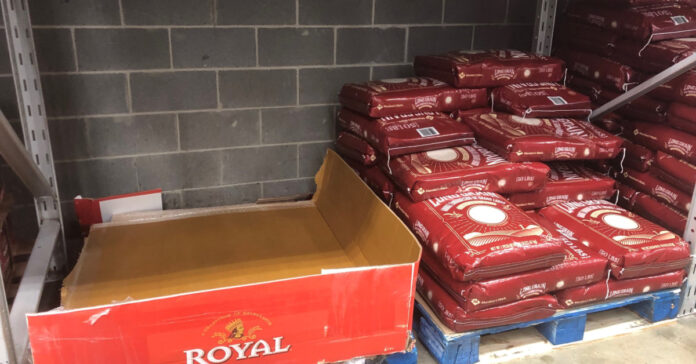 I keep a shopping list of 111 different products in my Sam's Club account online. This allows me to look and see what is in stock in the store, online, or both. Most of the time, items are available in both places.
Not this week. Things appear to be selling out. I don't know if this is because people are waking up to the threat of a food shortage and stocking up, or if it is supply chain issues, but here's where we stand as of last night:
In Stock Online Only 27 25%

In Stock Store Only 18 16%

In Stock Both 45 40%

Out of stock 21 19%
If I were to run to Sam's Club with this list, only 56 percent of the items I want would be in stock. I'd have better luck shopping online, where 65 percent of the items I want are available.
When I saw this, I immediately ordered four food items and a paper product that are not available in my store. These will go into my prepper pantry, just in case I don't see them in stock ever again.
Keep in mind, figures in your area might be different. My store in a smaller city in Appalachia may be smaller than yours.
Key Outages
Several things were obvious when I reviewed my list. Here's a rundown:
Many breakfast bars and food bars are out of stock. Eight different bars on my list, from Larabars, Cliff, KIND and Quaker, were out of stock or available only online.
Dried fruits were also out of stock. This included almost everything but raisins. If you want dried fruit in your prepper pantry, better grab whatever you can find.
Ramen, especially the kind sold in a cup where you just add hot water, both were only available for shipping and the chicken flavor had a red warning label reading "Low in Stock." I realize Ramen isn't the best food choice, but it is an inexpensive way to add calories to a meal. It's also good for kids, for bugout bags or car kits, and for giving away.
Both kinds of Jiff and creamy Skippy peanut butter were out of stock everywhere. I had seen Jiff go out of stock during COVID, but never both of them. There was a Member's Mark creamy available in my store and online, and Skippy's chunky version available for shipping only. Peanut butter is a staple; this level of inventory should send your alarm bells ringing.
Both the Classico and Prego spaghetti sauces I usually buy were out of stock, leaving only Ragu and the expensive Rao brand.
Other staples that were out of stock everywhere included jasmine rice, several brands of tuna, many kinds of crackers, and the virgin coconut oil I had planned to get. The canned roast beef is no longer available, but this item was in stock only intermittently before.
Still Available
There are still good options available, but you will have to shop in the store and then buy what you cannot find online. For example:
Wolf no-bean chili, Stagg Silverado Chili and Hormel chili were all available only online. Chili makes an excellent prepper food, but there was none at my local Sam's Club.
Many of the canned fruits and vegetable were also sold out locally but available online for shipping to my home.
Spam and cans of Members Mark chicken were available both online and in stores. (My wife made it pretty clear I'm not allowed to buy any more Spam after the last 8-pack I brought home.) You can still buy Vienna sausage, Libby's corned beef in a can, Starkist tuna, canned sardines, and other canned goods with a decent shelf life.
Shop Soon
The virgin coconut oil and the Members Mark Extra Virgin olive oil were out of stock, which I find interesting. I expect the outage ties back to the global cooking oil shortage. I do not know if the lack of KIND bars and other energy and meal-replacement bars is because of the grain shortage, but it would not surprise me to learn it is a contributing factor.
The extent of the outages tells me that our supply chain problems are getting worse and the food crisis is drawing closer. If you are new to the idea of prepping, better pick up some canned goods and shelf-stable foods with a decent shelf life while you still can. If you've been prepping a while, use this opportunity to top off your supplies and fill in any holes.