Reported cases of the coronavirus in the United States continued to edge upward over the past 24 hours, reaching 1,608,200 people, an increase of 23,400 or 1.4 percent. There were 1,249 deaths due to COVID-19 in the past 24 hours, bringing the total to 95,971, an increase of 1.3 percent.
While U.S. numbers continue to drift lower, global expansion continues as COVID-19 cases grew by their largest number yet, 113,000, to 5.241 million, an increase of 2.2 percent overnight. Deaths also increase, with 5,273 deaths reported globally in the past 24 hours, bringing the total to 338,762.
While cases throughout most of Europe have continued to decline, even in the face of reopenings, as we can see in the chart below, the hot spots have moved to Russia and South American: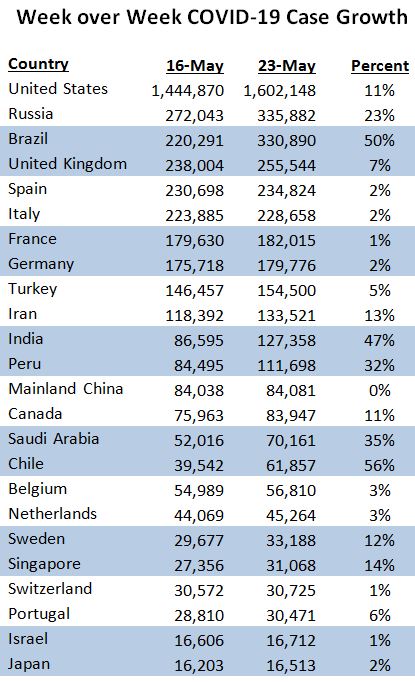 While Brazil, Chile, and India are grappling with the fastest increases, Russia, Peru, Saudi Arabia are also seeing significant increases in their growth rate. As the virus spreads through South America and makes further inroads in Africa and the Middle East, it is clear that while individual countries have made significant progress in limiting the spread of the coronavirus, the virus continues to spread across the globe.
Global Impact Spreads
As we have said before, it is too late to stop Coronavirus, we now have to focus on how we can best live with it. But living with it won't be ease as continued global spread will have repercussions at home, including:
Continued global travel restrictions
Continued immigration bans, especially as cases in South and Central America surge
Ongoing supply chain interruptions as food and other imports from different countries are interrupted or delayed by COVID-19 concerns
A slower economic recovery as global business are unable to fully recover and business travel and tourism remain suppressed
Increase poverty and food insecurity, especially in third world nations
---
Interested in putting today's report into perspective? You can look bat to yesterday's numbers or check back two weeks ago when Russia and Brazil had far fewer cases.