Reported coronavirus cases in the U.S. grew by more than 29,000 to reach 1,264,000. This 2.4 percent increase reportedly reflects the increased testing across many states rather than a continuing spread of the disease. Unemployment rose to 14.7 percent, meaning more than 20 million people have lost their job as a result of COVID-19.
Nationally, the number of deaths attributed to COVID-19 grew by 2,197, an increase of 3 percent, to 75,746, less than yesterday but more than the lows hit earlier this week. Globally, deaths surpassed 270,000 and there are now 3.871 million infected with the coronavirus.
There are, of course, some inconsistencies and inaccuracies in how the data is reported across all 50 states. Virginia, for example, admitted that if the same patient tests positive on two different days, they are counted as two positive cases, even though it is the same person. In some cases, deaths are attributed to the coronavirus while there were other factors involved, and sometimes when no test was done, they are attributed to pneumonia or another factor even if the patient was COVID-19 positive. While more and more testing is being done, there are still pockets of the country where it is reportedly difficult to get tested.
Global Cases Grow in Russia, Brazil
While the U.S. continues to hold COVID-19 cases steady, some outbreaks in Europe and South America are growing at a rapid pace. These are number for the week ending yesterday: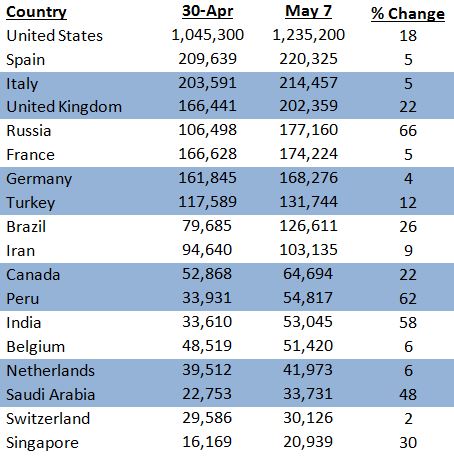 Among the countries with emerging cases of coronavirus are Russia, India, Peru, Brazil and Saudi Arabia, although numbers from Iran and Brazil are both believed to be significantly under reported and should probably be much higher. (We have removed China from the list because of inaccurate data.) Among those develop countries who were hit hard early, Spain, Italy, France and Germany are well over the hump and seeing week-over-week growth in the low single digits.
Unemployment News
It should shock no one who is paying attention that the unemployment rate soared to 14.7 percent as more than 20 million people lost their jobs in April. Even if three quarters of those jobs come back when thing re-open, that will mean 5 million people unemployed, and many estimate that the true number of unemployed is even higher than reported.
To put today's numbers in perspective, you can look at news and data in yesterday's report or a week ago.