Taking a look at the growth of the virus over the past two weeks shows some interesting trends. Growth slowed in all of the top 20 countries except Spain, France, Italy, Turkey and Germany. Looks like Europe may be seeing a resurgence.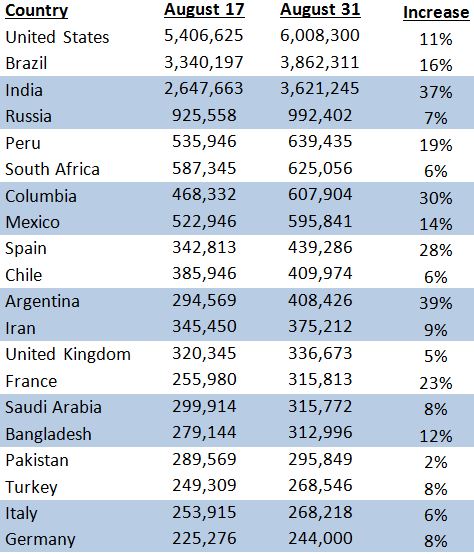 India has jumped 1 million cases in the past two weeks and is likely to climb past Brazil. Peru, Columbia and Argentina are also racing up the charts. Spain is quickly working its way back into the danger zone.
Case growth in the U.S. slowed to 11 percent over the two weeks, down from 16 percent over the prior period.
Today's Data
In the past 24 hours, the U.S. has surpassed 6 million cases and the world has eclipsed 25 million. Only 374 deaths were reported in the U.S. during the past day, bringing the total dead to 182,986. The global death toll is 846,985.