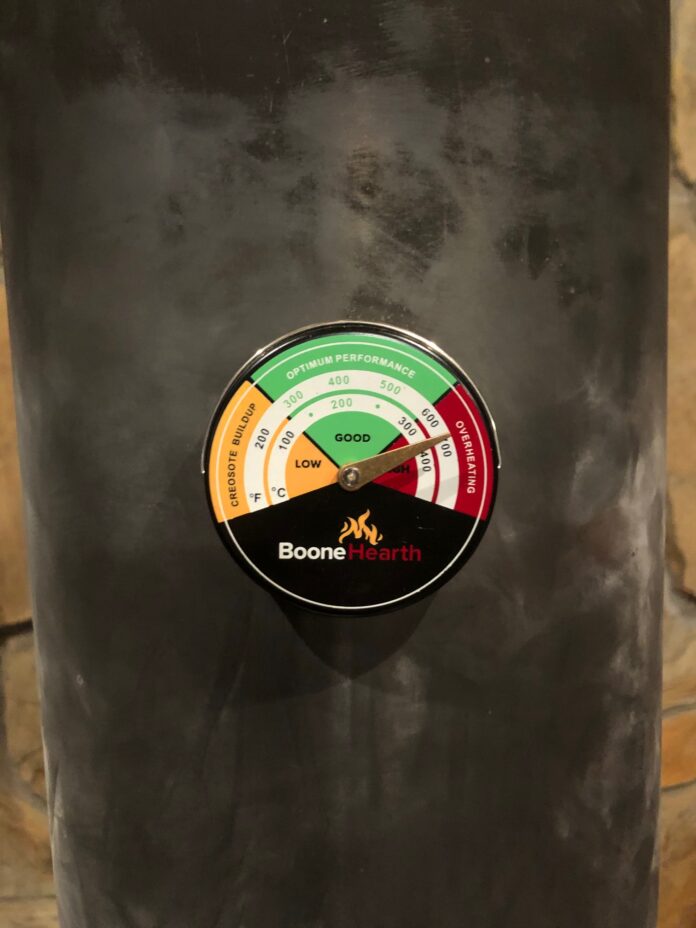 The winds were so brisk yesterday that it was difficult to keep the fires warm. The wood was burning, but the wind must have been sucking all the heat up the chimney. That was a new phenomenon for us. Later, the wind died down and the stove got so hot, I added three new logs and the temp shot up as it started to burn. I usually use oak, but there must have been some poplar or another lighter wood in there. I had to close the flu and dial back the damper to cut off the oxygen supply. I've never got the stove above 600 degrees before, but it was in the red zone on the stove pipe thermometer.
I've read that 500 degrees is a hot stove, 600 degrees is a very hot stove, and 700 degrees is over heated, something you want to avoid. I avoided it by maybe 10 or 20 degrees, as you can see in the image. Luckily I was working in the room next door and noticed in time. A good reminder not to load your stove up and leave the area. Also a demonstration of the value of a good stove thermometer.
Scouting for Resources
Tuesday was a get-to-know-your-surroundings day for us. We visited two local general stores as part of getting to know the lay of the land. We tried to make a positive impression by buying something and chatting with the proprietors in the hopes that we will be remembered positively, as we are at the local Ace Hardware where the owner and his wife both know us. For example, I bought a nice hickory replacement handle for my maul. We also visited the closest Dollar General, and a garden center that has a green house and happens to sell locally raised free-range eggs for only $3.50 per dozen.
The Dollar General and a convenience store are the closest retail outlets, less than 15-minutes from home. Dollar General does a great job of servicing the small towns and villages. If you need to run out and pick something up, there's a good chance Dollar General has it or something close to it. The conveineince store also has an eclectic selection of goods. Best of all, both are close to the post office, so we head that way a time or two a week in any case.
General Stores
Now when I say these general stores are "local," I mean they are in one of the closest towns, about 40 minutes from home. That's about as far as Walmart and much closer than Lowes, Home Depot, Tractor Supply, or any of the other big box stores we might frequent.
Both stores carry a good deal of footwear and apparel, including many brands serious outdoorsmen would wear. They also have a good deal of denim and work clothes, including Carhartt. Both have a selection of housewares, some common hardware items, canning supplies, garden tools and equipment, and some basic food stuffs.
One of the two stores had an emphasis on animal feed and garden chemicals and soil amendments. This made my wife happy, and she picked up some gardening supplies. They have a big warehouse out back. You can go inside the store, pay for 100 pounds of chicken feed or a few cubic yards of top soil, and they nice fellow will bring it out and set it your trunk or the back of your truck. A family run business, it seemed like they knew most of their customers.
The other store sold guns, and they had a ton of shotguns in stock, very few lever actions, almost no black sporting rifles, and a decent number of pistols. There was almost no ammo to be seen. They also sold gun safes and camo hunting gear. A good place to revisit when they re not in the midst of their holiday sales.
More Firewood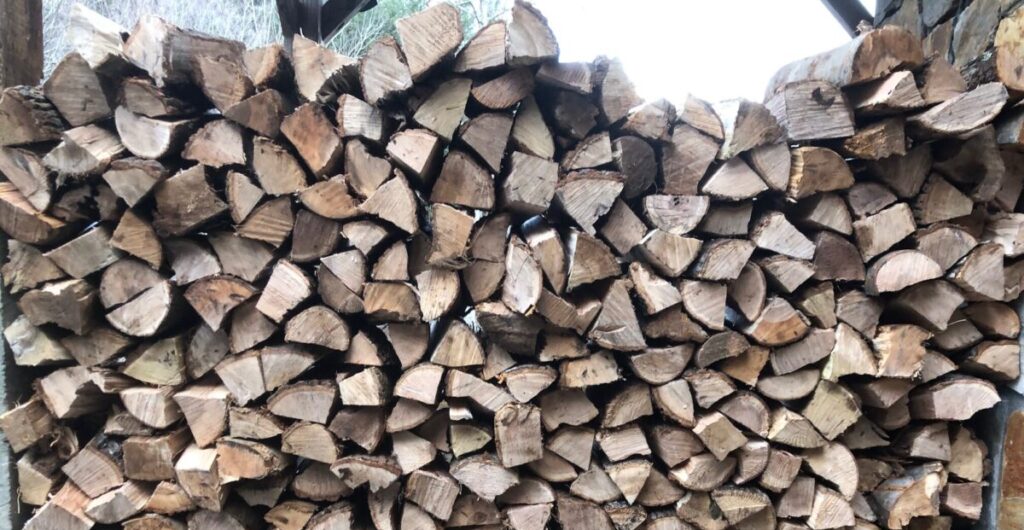 We had another cord of wood delivered and we stacked and tarped it. This one does not seem as well seasoned as the prior loads, so we will use it last. My youngest daughter is here for Christmas, and she helped us stack it, which was good exercise for all involved. I would estimate we have enough firewood to last us through February. My plan is to always buy more well before we run out as there may be weeks where they can't get up the road to make the delivery.
Speaking of the road, my daughter's old car made it fine, despite its small size and lack of four wheel drive. She was a little intimidated by fording the stream but forged ahead and made it in one piece.
We celebrated Christmas early with my daughter, who sewed most of her gifts, and we each gave my wife a new puzzle for her to do during the dark months of the COVID winter when we are self-quarantining. I got a book, some baked goods, and a home made quilt
With our official Christmas dinner behind us, I'll be eating leftover ham for the rest of the week and we'll have some good split pea soup made with the ham bone. Both are things to which I look forward!
Our family wishes you and you're a very merry Chirstmas.
Thing We Should Not Buy
As I continued to unpack from our recent move, my list of things we should not buy because we have enough continues to grow. Coincidentally, split peas is one of the things on the list, so eating some split pea soup is a good way to use up some of our surplus. Other items on the list include grits, quinoa, rice, and several varieties of dried beans.
Spam is a recent addition to the list. We have 38 cans of Spam. That's more than 150 servings.
Depending on your perspective, that's either a large number or not enough. I hope we never reach the point where as a prepper I say, "Damn, we should have bought more Spam."
As we work our way through the boxes piled in our workshop and storeroom, we keep finding boxes that say they have canned food in them. I am setting these aside and we will unpack all the canned food at once, where it will join the canned food we brought up earlier as part of our prepping supplies.
My wife keeps telling me we have too much canned food. I keep telling her that is impossible. Well, except maybe in the case of the Spam. And sardines. I'll eat canned sardines if I'm hungry, but I am not a huge fan.
Maybe we can make a dent in our canned food over the next few months as we batten down our hatches and minimize our shopping excursions to avoid COVID-19. Personally, I'm looking forward to making homemade pizza again, something we did during our last quarantine.