I just got back from a trip to the big city where I went to Sam's Club, Home Depot, Lowes, Tractor Supply and made a couple other quick stops. Tractor Supply had the parts needed to correct the problems with the electric fence. I got lumber at Lowes (because Home Depot didn't have what I wanted). I picked food and supplies at Sam's Club, because for a rural prepper, no trip to the city is complete without a visit to a warehouse club store.
Rising Costs
Everything I see online suggests the peak of lumber pricing is far behind us, but someone needs to tell Lowes. While plywood pricing was down from its peak, the premium pine boards I bought to make shelving were more expensive than when I bought them this past winter. I paid about $35 then and I paid $39 now. Not what I expected.
At Sam's Club, meat was more expensive than ever. I like an occasional rib eye steak. Last time we went shopping, they were $12.95 per pound. This time, the cost had jumped to $14.95. Crazy. They were cheaper than that at my local grocery store.
I also looked at ribs and brisket to put in our smoker, but I held off because I could not buy a brisket for less than $100. I ended up buying a slab of corned beef for $6.08 per pound. When she put it in the freezer, my wife pulled out we had purchased in March, just prior to St. Patty's Day. It had cost just under $4 per pound. That's a 50 percent price increase in six months.
I wish we had enough land to raise a steer or two. Or a pig, pork prices have also increased.
Some Good Deals
Despite the cost of meat, there are still good buys to be had at Sam's club. For example, they had huge tubs of salad mix for $2.08, far cheaper than the grocery store. The availability and low cost of pasta also impressed me. Their Member's mark brand of spaghetti and angel hair pasta were $4.65 for six one-pound boxes. That's only 78 cents per pound, better than any grocery store or dollar store I've been in. Macaroni elbows were $4.98 for six. If I didn't have five-gallon pails of pasta on hand, I would have bought some.
I think Sam's is following Costco's lead and selling more store-brand products to keep their prices low. I saw that they now offered Member's Mark jasmine rice for about a third less than the branded product on the next shelf over.
Purchasing Limits and Shortages
Speaking of rice, I saw they had less rice in stock than usual. I don't know if this is a temporary thing, possibly caused by shifting to their own brand, or a more serious supply issue. Maybe people are finally stocking up. There were still plenty of dried beans and dehydrated potato products. The shelves were loaded with canned goods, including meats, fruits, vegetables and tomato products.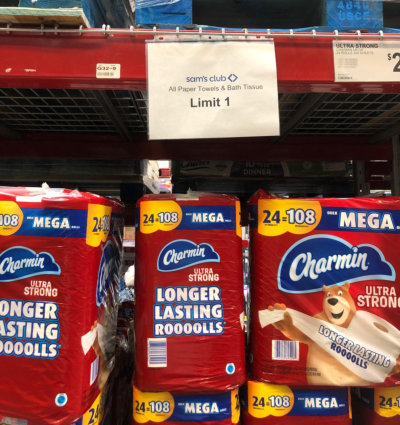 In the paper goods section, however, they were limiting purchases to 1 package of paper towels and toilet paper, confirming rumors I had seen online.
When I was checking out, a couple in the next lane had a flatbed cart stacked with Styrofoam coffee cups and lids. Each box holds 1,000 cups, and it looked like they were buying at least 8,000. I joked that they must really like their coffee. The woman said they own a small restaurant and their suppliers were often out of stock. Sam's Club was also $12 less than their distributor. I don't know how long 8,000 cups might last, but I hope they planned ahead.
Still Time to Prep
Whether you have not yet begun to prep or you just want to add to your food storage, there are still opportunities at Sam's Club to bolster your prepper pantry. Besides the pasta I mentioned earlier, you can buy a 10-pound bag of pancake mix for $5.98. That makes a lot of breakfasts and it is easy to cook–just add water. The six pack of canned chicken is still less than $10, an excellent buy for canned protein. They also had canned corned beef, Spam, at least two kinds of chili, and the aforementioned rice and beans. Peanut butter is also less than $10 for two 40-ounce jars.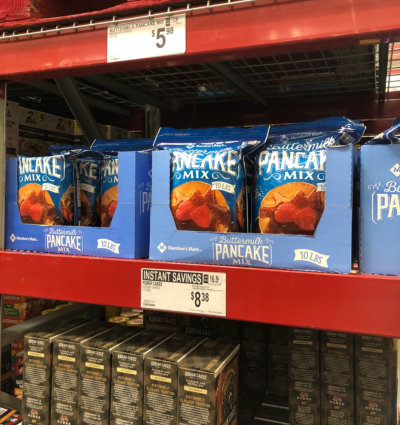 Use a little ingenuity, and you can put together a week or two inexpensive, filling meals for a week or two by buying items that do not need refrigeration. Avoid cookies, snacks and food bars and focus on staple items like oatmeal, ramen, rice, and beans. Buy in bulk and you will see how quickly you can stock up on enough calories to feed your family for a week.
Just don't expect this bounty to last forever and don't expect prices to stay this low.