The United States set another sad record in the past 24 hours, with 2,664 reported deaths, an increase of 10 percent. Total U.S. deaths due to the coronavirus are now reported to be 28,586. Reported cases of COVID-19 rose by 30,147 to 636,917, an increase of 5 percent, which represents a slight increase over yesterday's case growth.
Hospitalizations in New York are down — not just new cases, but overall COVID-19 patients has actually dropped, another positive sign.
We've tracked data from New York quite a bit in the past weeks, where the New York Times now reports there are 213,779 cases and 12,192 deaths, but New Jersey has more than 71,000 cases, meaning if it were a country, it would rank 8th highest in COVID-19 cases.
Globally, Johns Hopkins reports there are 2.09 million cases with more than 139,000 deaths. Yesterday, we looked at how cases in U.S. states have grown over the past week. Today, we present week-over-week data for non-U.S. countries: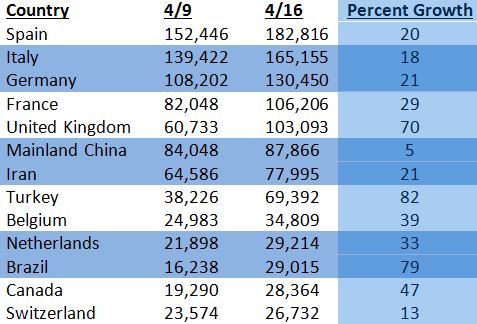 What is obvious here is that some counties have managed to successfully slow the viral spread while emerging hot spots like Brazil and Turkey are still seeing aggressive growth. Not listed is Russia, which is close to 28,000 cases and India with close to 13,000. We expect to see them both registering on the list in another week.
As countries like Spain and Italy go from being the epicenter of the European outbreak to being yesterday's news, its clear that social distancing is the only way currently available to slow or stop the spread of the coronavirus.
Sadly, we were Right
On April 10, in an article titled COVID-19 Is Killing the Economy, we predicted that small businesses will be forced into bankruptcy and spelled out what would happen to restaurants. According to this article in the Wall Street Journal, it's already happening.
The article tells the stories of the owners of a movie theater, a restaurant, a pet retreat, a tech start up, a brewing company, and a pre-school, each of which were forced to close the business as a result of the shutdown orders. We wrote about the impact on restaurants, and here's what one said in the Journal reported:
The seven-year-old restaurant, which typically had a dozen or so employees, quickly ran through its modest cash cushion after nonessential businesses were ordered closed in March. Switching to takeout proved unsustainable. Mr. Sutton said he was reluctant to apply for government aid, especially when the future seemed so uncertain.
"We decided to cut our losses," said Mr. Sutton, adding that the restaurant's owners, who met at culinary school, had recently paid off the $200,000 they borrowed to finance the operation.
Civil Unrest
On April 6, we wrote about the possibility that the coronavirus would lead to civil unrest.
Recent protests in Michigan were more along the lines of civil disobedience than unrest, but its a just a first step down the road. Too many people are getting fed up with ridiculously strict interpretations of and over-the-top enforcement of stay home orders. Things will not remain calm forever.
The IMF concurs and has warned of social unrest in this article. While cases in the U.S. have been minor, more significant protests are taking place around the world.