Reported cases of COVID-19 in the U.S. continued to hold steady with 30,000 new cases in the past 24 hours. This is an increase of only 2.7 percent to 1,140,100. Deaths were well below the 2,000 mark again, rising 1,593 to 66,490.
The increase in global cases has also stayed level, with 85,000 new cases in the past 24 hours, bringing to global total to 3.449 million cases. Only about 5,000 deaths were recorded around the world, raising the total to 244,239.
Reopening Dominates News
A few weeks ago, the rapid increase in cases was the leading news story. Today, new clusters and outbreaks are getting almost no national attention because the media is focused on reopening and protests. For example, Trousdale Turner Correctional Center, in Hartsville, Tenn., has more than 1,300 cases, but there's been no national news coverage. But stories about over crowded beaches and protesters are getting plenty of air time.
To put reopening in perspective, let's look at how states are performing: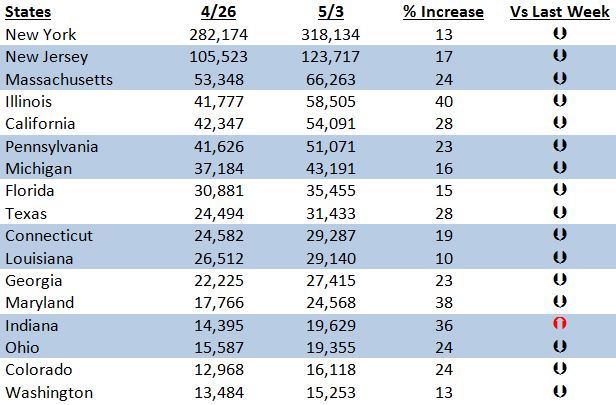 While former hot spots like New York and New Jersey have successfully lowered the rate of new infections, states like Illinois, Maryland and Indiana are seeing a more rapid spread of infections. Of course, percentages don't tell the whole story: New York, with a 14 percent increase, saw 36,000 new cases, while Indiana, with a 36 percent increase, saw only 5,200 new cases. But we have to wonder what will happen when states reopen.
We may look at the chart above and think that's not very good, but it's worth remembering that on April 1, New Jersey had a growth rate of 138 percent, Louisiana was experiencing 211 percent growth and Texas was at 151 percent.
We Flattened the Curve, but…
Clearly, we flattened the curve in hard hit areas like the New York metropolitan area and New Orleans, but also in states like Florida, California and Ohio. We successfully prevented hospitals from being overwhelmed and many of the field hospitals have been torn down. The problem is that flattening the curve also stomped on the economy. Even when we reopen, a huge chunk of the population is going to stay home.
As you can see in this report, a recent survey shows that more than half of Americans will not go to a sit-down restaurants for at least three months after they reopen and a quarter won't go until a vaccine is developed. Almost as many will not attend a sporting event. One third of small business could fail.
Batten down the hatches, folks. Coronavirus cases may be slowing, but the fallout will be with us for some time.
To put today's numbers in perspective, you can look back at yesterday's report or check back a week or a month when Global COVID-19 cases surpassed 1 million.
Opening graphic from Azurite Consulting