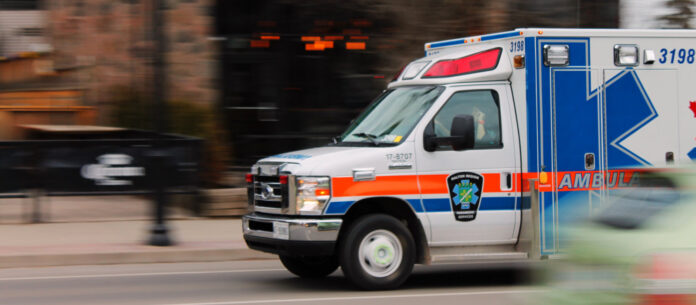 Cases of COVID-19 in the U.S. jumped almost 30,000 in the past 24 hours to 244,228, an increase of 14 percent, illustrating that the U.S. continues to keep the growth rate steady. At his rate, the number of cases will double approximately every five days, an improvement over the initial growth rate when cases were doubling every three days. Still, to make progress against the virus, we must see growth continue to slow and then contract until there are little or no new cases.
The United States reported 1416 new deaths attributed to Coronavirus, reaching a total of 6,257, an increase of 29 percent in the past 24 hours. The New York times reports that "The death toll has grown six-fold in eight days."
In New York, the epicenter of COVID-19 in the United States, cases grew 8,770 or 10 percent to 92,770. They now have 13,383 patients hospitalized with 3,396 in the ICU. The rate at which new patients are entering hospitals in New York dropped for the second straight day. Social distancing and lock downs appear to be doing their job as growth in New York caseloads slows, especially in Westchester and the city itself.
COVID-19 Growth Increases Outside of New York
At one point, New York was responsible for half the country's cases, a number that is now down to 38 percent as growth in New York slows and cases in other states accelerate.
Here is data from the New York Times showing statewide increase over the past two days: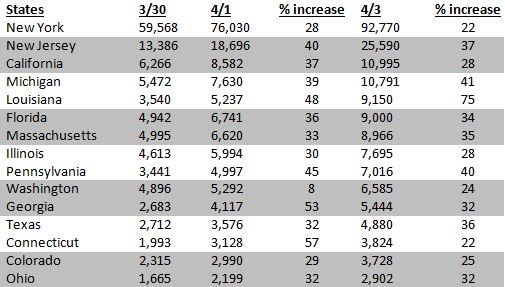 As you can see, the rate of growth is down across the board, with the exception of Michigan, Louisiana, Massachusetts, Washington, and Texas. Louisiana is seeing shocking growth with cases increasing 75 percent over the past two days.
Like New York State, more than half of Michigan's cases are in Detroit while more than half of Louisiana's cases are in the parishes around New Orleans.
Correction: The chart of data was updated at 10:50 a.m. on 4/5/20 to correct an incorrect date.