I went to Costco today for the first time in months, we struck the mother load. I've been repeating that you should shop now, while things are back to normal and we have a window of opportunity, and this trip certainly proved it. I spent more than $250 on food, both fresh and canned/dried, to help us re-stock
Here are some highlights:
I arrived at Costco about 5 minutes before they opened and I was the 112th person in line. Masks were required. They handed my a disinfecting wipe, so I claaned my hands and then the handlebar and other parts of my cart.
I basically went right down the main aisle to the food section.
Full Meat Racks
Costco had plenty of thick-cut bacon. Two weeks ago when I was at Sam's Club, they did not have any. I bought two packages, or six pounds worth, and stashed them in the freezer when I got home. I am happy to report we are in no danger of running out of bacon any time soon.
But bacon was just the beginning. Costco had a full meat section. There were multiple cuts of beef and pork and both ground beef and ground bison. In fact, there were so many large pork loins that they were discounting them $4. There were not limits on buying beef or pork, but they did limit people to two packages of fresh chicken. There seemed to be plenty of fresh chicken, however.
Costco also had plenty of sausage and prepared meats, like salami. The fresh fruit/vegetable aisle was well-stocked. There was no shortage of eggs or dairy. Plenty of cheese and butter, for example. They had more bread than I normally see. The refrigerated/frozen food was in excellent shape.
Plenty of Seafood
On both my trips to Sam's Club, I was shocked at how little seafood was available. You had the option of canned Tuna or canned salmon, but not much else.
Costco had their normal double-sided display case, and it was loaded with fish. There was Tilapia, catfish, salmon and at least a couple other filets. I almost bought the catfish, but I decided I had better not surprise my wife by bringing home six pounds of fish without letter her now. (She later confirmed my judgment was sound.)
Non-Refrigerated Food
In the remaining food aisle, where you can buy canned food, food in jars, dried foods in boxes or bags, Costco had the best supply I had seen in a long time. In fact, it appears to me that Costco had changed their product offering to accommodate people who wanted to stock up. For example, they had six-packs of Mary's Kitchen corned beef hash (I bought two). I have not seen hash at our Costco for years. The Steak House canned chili we like is no in eight packs instead of six packs. They also had large stocks of canned fruits. This is perfect for someone who wants to stock up, fearing that more stay home orders are coming.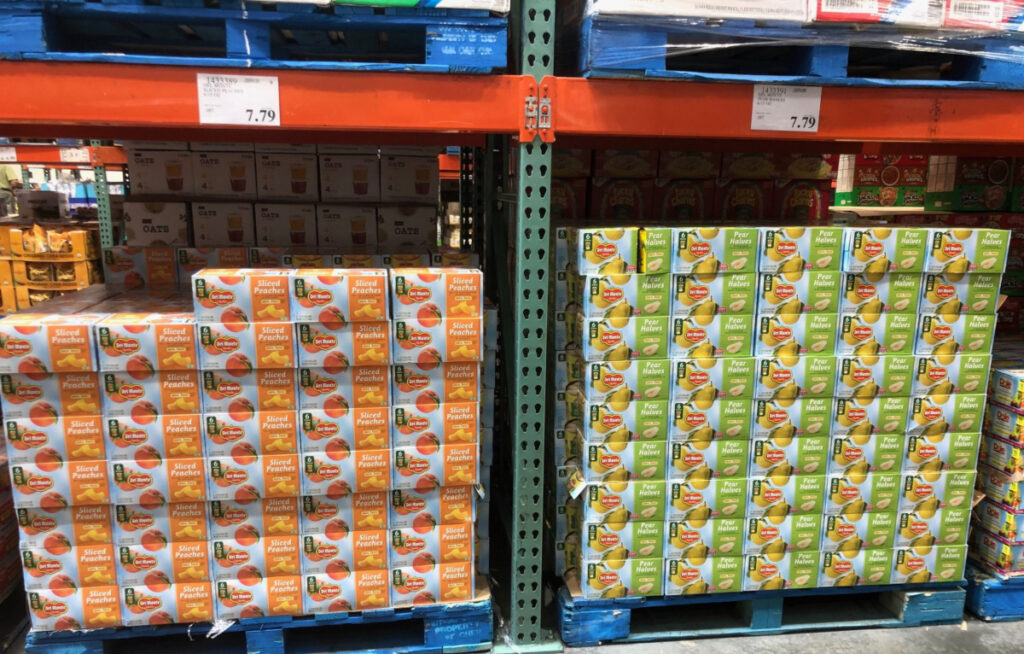 I saw no obvious shortages. The only thing I personally wanted that I was not able to get were a particular kind of crackers. They had five or six varieties of crackers, from Ritz to gluten free almond flour crackers, but not the brand I wanted. There were also plenty of pastas, sauces, rice, beans, nuts, dried fruits, nut butters, protein bars, breakfast bars, and other items with a good long storage life that you can put in your pantry and pull six or 18 months from now and happily consume.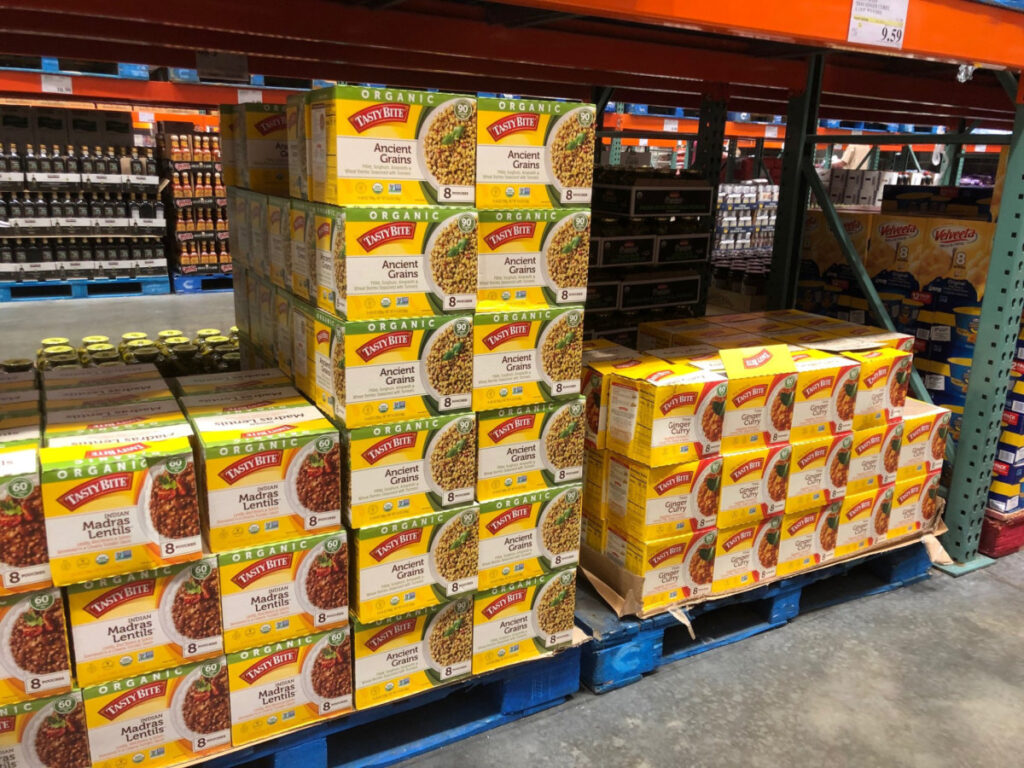 Paper Products
Outside if Home Depot, where they would sell you one roll for 78 cents, Costo was the first place I had seen that had toilet paper in stock. They didn't have the big brands, like Scott's or Charmin, but they had their own brand and they had a more generic brand (which may normally be sold to offices) in boxes.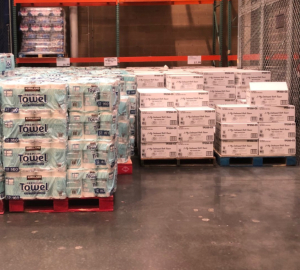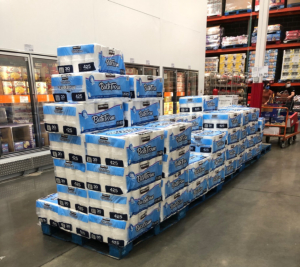 I've heard of bottled water shortages, but they had an entire row of water. Most of it was the Kirkland brand, but there were a few Deer Park varieties.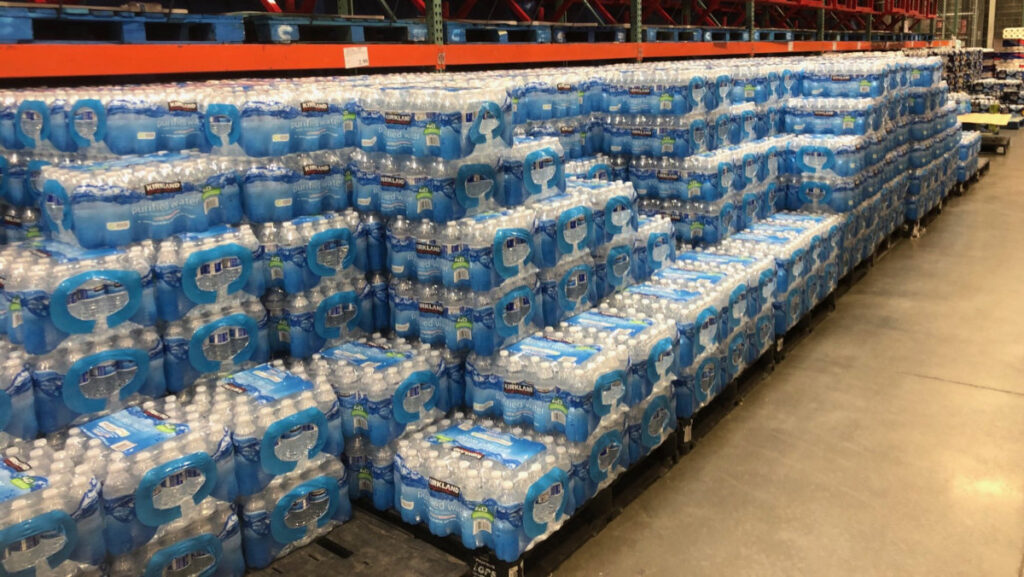 Costco Vs. Sam's Club
I have to admit, I was surprised at how much better stocked Costco was compared to Sam's Club two weeks ago. No granted, to do an accurate head-to-head comparison, I would need to have shopped both on different days. (That's not going to happen because they are in opposite directions, and neither is that close to our house.)
It appears to me that Costco has a better supply chain than Sam' Club because they sell so many of their own Kirkland brand products. For example, they had Kirkland toilet paper and paper towels in stock. I recently ran into someone who works in the poultry business, and they told me that Costco has dedicated chicken processing plant and processes millions of birds a week. (This info was confirmed in this article as well as in this article and video.) That gives them an advantage over club stores that must buy from Tyson, Purdue or other companies that serve multiple companies.
Our visit to Costco Friday shows that things in our local store are back to normal. The big question is, will they stay like this, or will things get worse in a few months or possibly next spring if we see a second wave of COVID-19. Play it safe, visit soon, and stock your pantry and your freezer while you still can!