The U.S. added a record-breaking 48,300 cases of coronavirus since our report yesterday, bringing the total to 2,483,500. This represents an increase of 2 percent. The death rate remained quite low at 0.5% with only 640 new deaths attributed to COVID-19 in the past 24 hours.
California added itself to the list of states that are tightening their COVID-19 restrictions, putting Imperial County, which is east of San Diego and on the Mexican border, on a stay-home order while pausing re-opening state wide. 23 percent of tests in Imperial County are coming back positive, compared to a state-wide level of 5.7 percent.
Five percent of the NBA players tested for COVID-19 (16 out of 302) had positive results and will be in quarantine as their colleagues move towards re-opening the NBA seasons and playoffs. This is far higher than the 0.8 percent rate of English Premier League and the 0.6 percent of the Bundesliga soccer players and staff. Of course, this probably just represent the higher rate across the U.S. None of the 16 players were seriously ill and many reported no symptoms at all.
Global Data
Globally, the spread of coronavirus continues with 174,000 new cases added in the past 24 hours, a growth rate of 1.8 percent, bringing the worldwide total case count total to 9.828 million. Here's a look at the growth across different countries over the past week: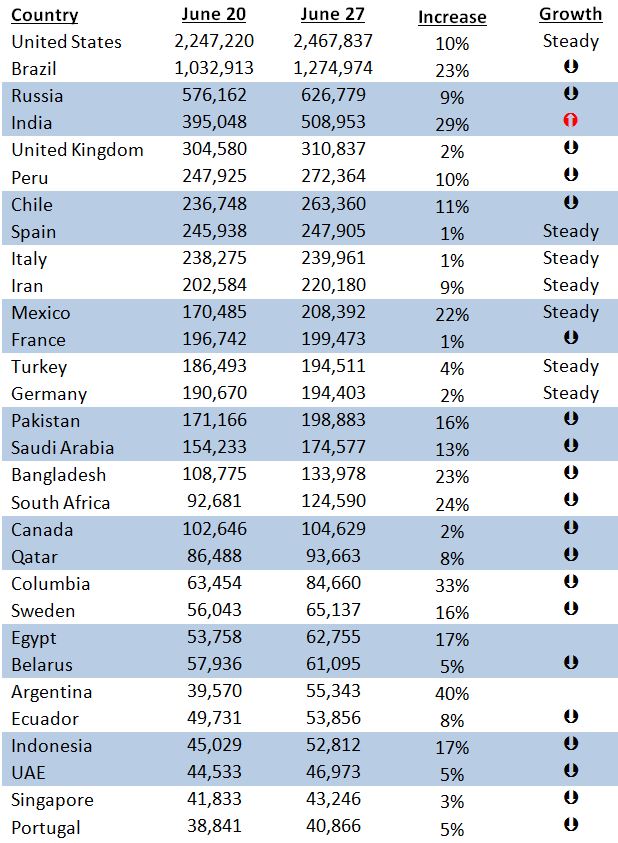 There has been very little change in the top 10, although Chile has moved ahead of Spain and Italy and remains one of South American hotbeds of coronavirus. Iran, where cases continue to rise, has pulled ahead of France and Germany, as has Mexico. Making their first appearance on our chart are Egypt and Argentina
Most surprisingly, the United States shows its growth rate as steady, something we did not expect after the media hullabaloo regarding raising rates.