The world hit a COVID-19 record yesterday, with 307,930 cases reported, more than ever before. You can see below how the top 22 countries stack up: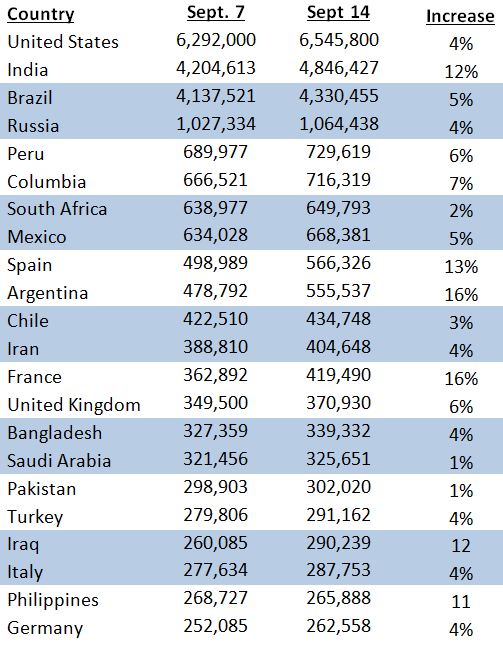 In terms of changes from last week, Mexico overtook South Africa and France surpassed Iran. Iraq and the Philippines both jumped onto the list by surpassing Germany. The rate of growth for the returning countries dropped or remained steady in all of the listed countries, with the exception of France, Germany and the UK, which each saw an increase of 1 percent.
Not evident on the chart is Israel, which has ordered a new three-week lockdown after cases topped 40,000 and overwhelming a local hospital.
U.S. Cases Decline
In the U.S., the trendline continues downwards. The country reported 35,065 new cases and 399 deaths in the past 24 hours. A total of 194,066 deaths have occurred.
Curiously, North and South Dakota are leading the country on a per capital basis, but since their population is low, that doesn't translate into very many cases. North Dakota has reported 1,945 cases in the past week and South Dakota just 1,529. That puts them well below states like Missouri with 9,620 and Georgia with more than 11,000 cases in the past week. Hell, the statewide total for either of the Dakotas is less than the 17,563 cases Florida had this past week.