The past week was a record-setting one for COVID 19 with the U.S. surpassing 12 million cases, India topping 9 million, Brazil exceeding 6 million and both France and Russia passing 2 million. Six other countries have more than 1 million cases. Globally, the total approaches 60 million, with north of 600,000 cases reported daily multiple times in the past week.
Across the U.S. and Europe, governments are locking down their citizens, implementing curfews, and limiting the number of people you are allowed to visit. In parts of Australia, you aren't even allowed outside to walk your dog – a ridiculous rule that fails to take into account how less likely the disease is to spread in an outdoor environment.
While many businesses remain open, the number of customers or guests they are allowed to have at one time is limited, often to 25 percent of normal. For many small businesses, that's just drawing out the lingering death knell of the shutdowns, lockdowns and cutbacks. Recent research showed that the shutdowns this spring saved 29,000 lives, but cost the economy $169 billion, or $6 million per death. Politicians have to ask themselves if this is a price they are willing to pay?
Cases in the U.S. are expected to continue to grow as Thanksgiving, and air travel is rising for the holiday, despite warnings by the FDA and other experts, and will soon be followed by Black Friday shopping crowds, Hanukkah, Christmas, Kwanzaa, and New Year's Eve. That could result in a significant spike of cases followed by deaths in January.
Global Numbers
Here's a look at the week-over-week report: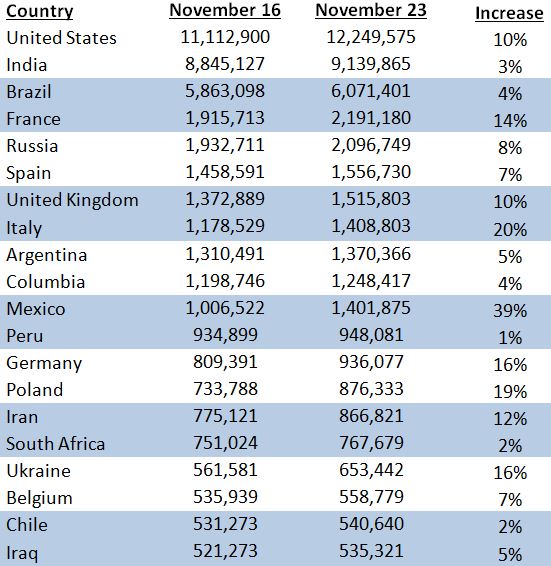 France surpassed Russia, becoming the county with the fourth most cases. Considering that Russia has more than twice as big a population of France, this is an impressive jump in cases exhibited by France. Italy and Poland both climbed two spaces, showing that Europe remains an area of concern.
Overall, the percent gain slowed slightly with only one country over 20 percent. Europe's lockdown seems to be working, but it may take another few weeks to know for sure.
---
If you liked this article, we recommend you look at last week's report.