Nine countries now are now reporting more than 1 million cases of coronavirus, with the United Kingdom the newest addition to that list. While the U.S. remains ahead of India by more than 1 million cases 9.2 to 8.2 million), European countries are surging up the list as you can see in the table below, which compares this week's case count to the numbers a week ago: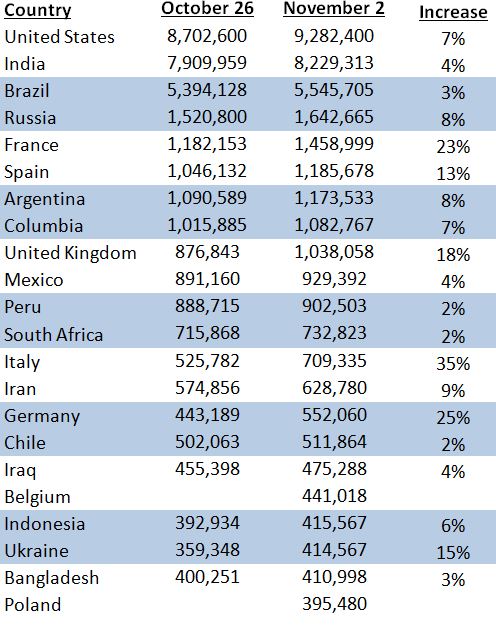 In the past week, Spain moved up the list one spot, surpassing Argentina, while the UK climbed past Mexico and Peru. It appears the virus is receding in South American while it booms in the northern hemisphere. Italy climbed one spot while Germany is up three, surpassing Chile, Iraq and Bangladesh. The Ukraine also moved up while Belgium and Poland joined the list of countries with the most cases for the first time, knocking off Turkey and the Philippines.
While the rate of growth slowed by 3 percent in France and the UK, it grew in Italy (from 27 to 35 percent) and Germany (20 to 25 percent).
U.S. Numbers
Daily deaths attributed to COVID-19 in the U.S. continue to remain below 1,000, with only 427 reported in the past 24 hours. Cases remain at a high level, with 74,136 reported in the past 24 hours and an average of 82,829 for the past week. This coming week may see the number of cases top 100,000 in a single day.
One Day Left to Prep
Still, COVID-19 is not the biggest stressor Americans face. Tuesday's election remains a source of concern for many as the fear of post-election violence lingers. We've continued to receive reports that store shelves are emptying, but we don't know if people are stocking up because they fear civil unrest or a COVID-19 lockdown. Either way, there are reports of runs on Sam's Club and Costco stores.
We've seen pictures and news coverage of stores in Washington DC and other major cities boarding up prior to the election and police departments are preparing. I have also heard anecdotal reports that drivers of gasoline and propane trucks are staying out of cities. I can assure you that my shelves are stocked and my gas tanks full.
If there is civil unrest, rioting and looting after the election, your best bet is to avoid the area. Monitor local news and avoid driving on streets or highways where there are protesters. For more information, read October 20: How to Avoid Election Day Violence and our piece early this year, Will the Coronavirus Crisis Lead to Civil Unrest?