Model Tested: 1,000 Lumen model for the Mossberg Shockwave

The TL-Racker from Streamlight is the third shotgun mounted light I own, and it is the brightest, most ergonomic model I've ever used. It is also the first one integrated into the fore end. (Yes, all my prior lights have stuck off the side. For example, my Remington 870 has a mount from GG&G upon which a PowerTac E5 flashlight is mounted.)
Integrating the light into your fore end eliminates the need for a separate mount, but it does require a specialized tool to remove the factory fore end and then re-tighten the retaining ring to lock the TL-Racker into place. I pulled a Shotgun Removal Tool sold by Aim Sports out of my gunsmithing tools to remove the retaining ring, but if you don't have a similar tool handy, installation can be more difficult. (These tools can be found online for $10 or $12 and in my opinion are well worth it.) When first slid onto the tube, the TL-Racker is a bit wobbly, but once you tighten down the retaining ring, it becomes solid and using it to rack a shell into the chamber is no different than it is with the stock fore end.
The on-off switches run down both sides of the new fore end, making it ambidextrous and giving you plenty of real estate to turn the light on or off. It defaults to momentary and takes some practice to learn the deftness required to switch to constant on instead of using the momentary setting, but this is preferable to the inverse.
Very Bright White Light
There is no doubt that the TL-Racker casts a very bright light a good long distance. Officially rated at 1,000 lumens with a 238-meter beam throw, it is more than enough to identify any target that you might comfortably engage with a shotgun. In fact, for use at home in the middle of the night, it may be too bright. In a small room, the splash back off light-colored walls could blind both the target and the shooter. While it is hard to fault a flashlight for being too bright, I would like to see some adjustability or variability.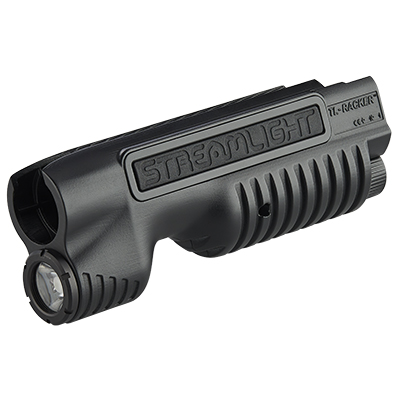 For example, I carry a flashlight rated for 1,000 lumens, but I don't keep it set at that level. The light has dim, low, medium, high and strobe. I find low (about 340 lumens) is sufficient for use inside and I will use the dim setting if I wake up in the middle of the night. Medium and high are useful outdoors. Another benefit of a lower setting would be an extended run time, although the 1.5 hour rating is darn good for a 1,000 lumen light being driven by two CR123s.
The lack of variable brightness is the only area in which this Streamlight product fails to meet my standards and is the primary reason why I cannot in good faith give it a perfect five star review. The lack of variability will not prevent me from using the light, it is just something to be aware of when you deploy it. It will likely blind your target; just make sure it doesn't blind you as well.
Battery Options
Another plus of the TL-Racker is that it can use either the increasingly common CR123 batteries or a rechargeable 18650, which is my rechargeable battery of choice. This allows you the flexibility of using a rechargeable but popping in a couple standard batteries if you run low and cannot recharge. Another plus is that it comes with two CR123s, so you can be up and running immediately.
I own two other Streamlight products: A very early Scorpion flashlight from the era before LED bulbs were prominent, and a TLR-2 pistol-mounted light. Both have performed exceptionally and the latter has held up to recoil, something you cannot always be sure of with inexpensive brands. I also know quite a few law enforcement officers who carry Streamlight products on their duty belt. The TL-Racker is a welcome member to the rugged, dependable Streamlight product catalog, and a welcome addition to my gun safe.
Overall, I was very pleased with this purchase and have no hesitation in recommending it to anyone who wants to add a bright, powerful white-light illuminator to their Mossberg or Remington shotguns.
Pros
Very bright
Comfortable to use
Large on/off switch
Ambidextrous
Relatively easy to install – if you have the correct tool
Cost effective and less expensive than similar products from other brands
Can use two CR123s batteries or a single rechargeable 18650 battery
Cons
Additional bulk may prevent your use of certain shotgun scabbards
Does not offer variable brightness settings
Installation requires* a shotgun fore end removal tool
*Can you install this without a fore end removal tool? Yes, but you probably shouldn't. While it is possible to fight your way through removing the original fore end and installing this one without a dedicated tool, chances are high you will scratch your gun or damage the retaining ring. Our advice is to get the tool.
Note: Pete purchased his TL-Racker from a major online seller at its standard sale price. He has received no promotional or financial benefits from Streamlight, the seller, or anyone else in return for writing this review. This review is based entirely on his personal experience and opinions and was not influenced by any third party.