As Pfizer's COVID-19 vaccines rolls out to healthcare workers across the U.S., followed next week by residents at nursing homes and other elder-care facilities, one can't help but think it is in the nick of time as there were more than 1.5 million cases reported across the country in the week ending December 14.
One of them was my pregnant daughter, who only took the test because there were 56 reported cases at her fiancé's employer, and he worked closely with people who were known to be positive. He tested negative, but she tested positive. So they tested him again – still negative. As a result, she has no idea how she became infected.
Being pregnant complicates medical care, and COVID-19 is no exception. As soon as her OB/GYN found out, he wanted her to go to the hospital, even though she had no symptoms. They ran a bunch of tests, decided the baby was fine, and sent her home with ab oxygen monitor and instructions to come back if the readings fell below a certain level.
It's hard for her to decide if she has symptoms, because so many of them are symptoms you would experience in the last month of pregnancy, including being tired. But she is home quarantining for at least two weeks. Most importantly, they want her to be negative by the time she has the baby, which is expected in early January, so it will be touch and go.
Global Spread Slows
While cases continue to climb domestically, the rate of case growth across Europe has slowed, likely in response to their shutdowns, but possibly because they do not celebrate Thanksgiving, There is some thinking that the most recent surge of U.S. cases is due to family gatherings over the Thanksgiving weekend.
Globally, there have been 72.5 million cases reported and 1.6 million deaths. The U.S. is responsible 300,000 deaths, including a few days lately where the death toll was right around 3,000, surpassing the worst days of the outbreak in April.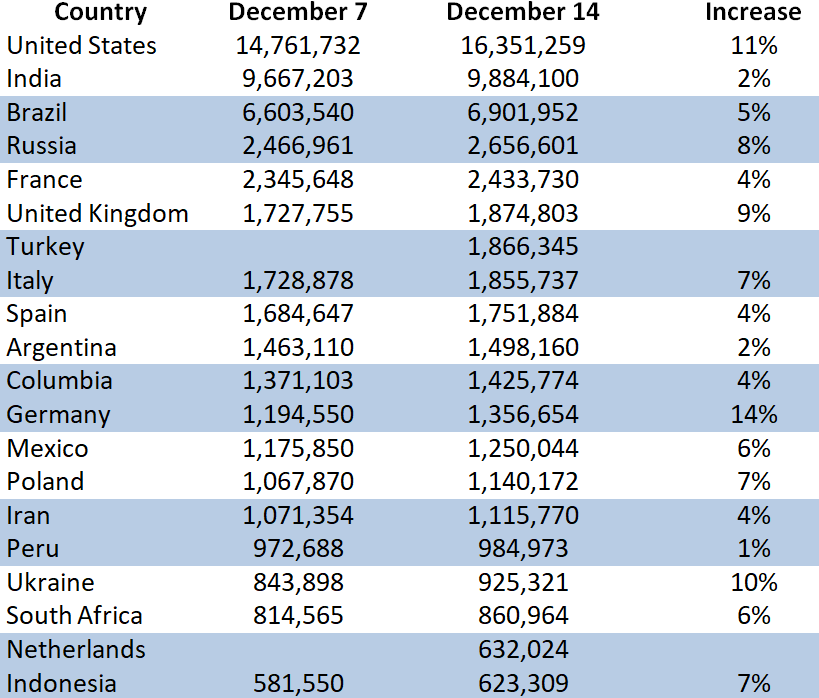 Turkey and Italy both overtook Spain in the week ending Monday, December 14, 2020, as Turkey jumped to seventh on the list of countries with the most reported cases of COVID-19. The Netherlands is also back in the charts.
There are now fifteen countries with more than 1 million cases.