We decided it was time to check in with our Prepper Shopping Basket Inflation Report to see if the prices of the 29 items, mostly food, that preppers would be likely to buy for their prepper pantry. For specifics on our methodology, see the methodology subhead, below.
All prices were checked online on the morning of Sunday, February 28, and compared to prices checked five weeks ago on Sunday, January 24.
Overall, the cost of our basket of goods (not counting fuel) was up from $74.49 to $74.94, or 45 cents, a net increase of 0.6 percent. While this does not sound like much, if we project the five-week increase over a 12 month period, we'd expects cost for our basket of goods to be up close to $80. Time will tell if this first period is representative of what the rest of the year holds.
Fuel Inflation Hits Hard
At the pump, the average price for gasoline has jumped more than 10 percent but home heating with propane saw the largest jump. Propane surged, increasing more than 28 percent during our five-week reporting period, more than offsetting the 6-cent drop in heating fuel.
While the recent cold temperatures obviously have an impact on propane costs, we have to lay the increase in gasoline and diesel fuel costs at the feet of the Biden administration and their anti-fossil fuel executive orders and legislative plans. You should expect the cost for gas during the Biden administration to be well above what it was in the Trump years.
Food Inflation is Here… Or Is it?
When we break down the prices of our basket of goods down further, it becomes clear that where you shop has a great deal to do with whether or not you experience inflation. Shopping at the club stores saw the average price drop while shopping at the big online retailers saw it increase. Here are the specifics:
Costco performed well on our comparison: They dropped the price of canned chicken by 17.4 percent cents, had spaghetti on sale for 24.2 percent less, and saw a similar decrease on the price of a 33-gallon draw-string trash bags. The only price increase was a jump of one penny per pound on their semi-sweet chocolate chips. So if you bought your basket of goods at Costco, you would have saved 61 cents this month over last.
Sam's Club performed even better, saving their customers $1.17 on the basket of goods. At Sam's, a can of bushes original baked beans was down 8 cents of 9.4 percent, chili with beans was down 22 cents, or 15.7 percent, a box of mac and cheese dropped 6 cents or 8.3 percent. Their biggest dollar savings was a drop of $1.52 on a 25-pound bag jasmine rice. Their only price increase was on raises, which popped by 5 cents per ounce, bringing it in line with prices elsewhere.
Amazon saw a tremendous amount of price fluctuations. Of the 18 products from Amazon that contributed to our pricing data, only one price was unchanged. Their largest increase was in Jif peanut butter, which was up $2.25 for a 40 ounce jar, a whopping 45 percent increase. Off setting this was a $1.51 savings in powdered milk. Overall, the Amazon shopper would have spent 77 cents more shopping this week than five weeks ago, if they stuck to those items that were not eliminated from our calculations due to their excessive cost.
Had a hypothetical shopper bought all 29 items from Amazon, they would have spent $68 more than our average and $77 more than if they had shopped at Sam's club, which had everything on our list except lentils. Even shopping at Walmart would save you about $54 versus Amazon.com. As we saw in our last report, Amazon had the worst overall pricing, mostly because of third party sellers and the cost to deliver heavy items like 25-pound bags of flour or rice.
Walmart fared the worst when it came to inflationary pressures. While their overall prices are lower than those on Amazon, they had far more price increases, som in the 60 to 80 or even 100 percent range. This is largely due to their reliance on third party sellers, which price foods higher, and the lack of their Great Value products available for home delivery. (These products were more available last month.) For example, their prices for black beans shipped to your door doubled and their price for chili with beans tripled when ordered for home delivery. If you could pick them up in store, you could get the Great Value can of black beans for only 50 cents, well below average, and chili was 80 cents, also well below the online average.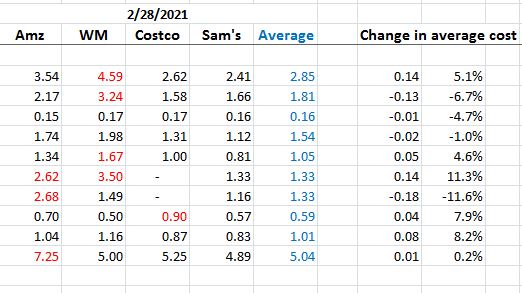 The Best Place to Shop
If you must shop online for canned food, dry goods, and household products, our data points to Sam's Club and Costco as being your best choice with Sam's taking the number one spot due to availability and pricing. You can save significantly shopping at these club stores, as long as you are not looking for a particular brand or want to buy in small quantities. If you need just a can of black beans on 12 ounces of dried pinto beans for a recipe, go to Walmart. If you want to stock up on black beans or pintos for the long run, our data would say go to Sam's Club or samsclub.com.
Conclusions and Questions
While our average cost over all four market places did increase 0.6 percent, it would be premature to say that this is a definitive sign of inflation. More data is needed so that we can have a longer trendline to evaluate. The massive and frequent fluctuations in Amazon pricing also invalidate any one-time comparison.
It will also be interesting to see if price jumps at Amazon and Walmart on products like Spam carry over to the club stores in a few months.
Prices at Amazon really do fluctuate greatly. They may claim to have the lowest price, but that can vary, sometimes greatly, from day to day. Prices do drop on Amazon.com, so it you insist on shopping there to build points or because of the ease of returns, then to save money, you should track the items carefully and buy on the dips.
It pays to shop around, even in the same marketplace. For example, buying 36 cans of condensed chicken noodle soup on Amazon.com was less expensive per can than buying 48 cans.
Methodology
Because preppers may live in remote areas and cannot always get to a wide selection of stores (for example, our nearest Costco is some 90 minutes away by car and there is only one grocery store in the nearest town), we have done our price checking online at: Amazon.com, Walmart.com, Costco.com, and SamsClub.com. Checking the prices online has the advantage of letting us check the price of a 2-pound brick of yeast, for example, at the same time on all four sites.
In the interested of fairness and to echo consumer behavior, we picked the lowest price seen on the first page of a website. To obtain the best price, we did purchase bulk packages, sometimes and two-pack and often 6, 8 or 12 cans, and divide the result accordingly to get the cost of one can. For items like tuna, that come in a 5-ounce can in some stores and a 7-ounce in others, we report the per-ounce cost.
Although we are reporting online purchase prices, it should be noted that you can often save money by shopping in person. When shopping online at Walmart.com, you will often see products for less that are available for store pickup only.