After dropping for the better part of two months, the number of COVID-19 cases has leveled off in the U.S. Hospitalizations continue to drop, which is good news, and stand at 47,352. In the past 24 hours, there have been 50,925 new COVID-19 cases and 1,129 COVID-related deaths reported in the U.S.
Globally, there have been more than 114 million cases and 2.5 million deaths. The average number of cases reported daily is around 350,000. So while COVID has retreated, it has definitely not disappeared.
Global Data
The data below will show you the comparison between today's count and those a week ago and the increase in cases over that one-week period.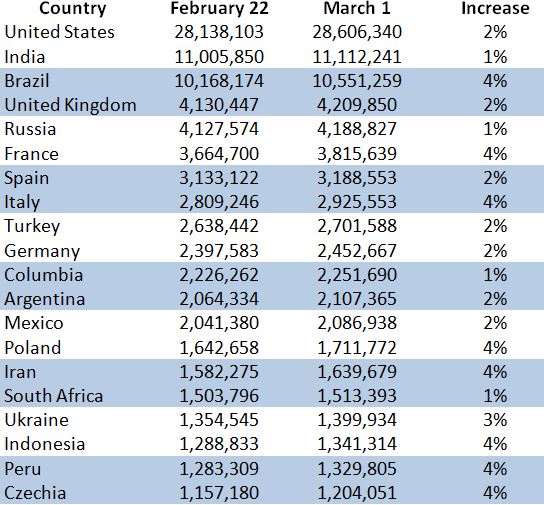 On this week's chart, there was no movement up or down a spot as the standings for the top 2 countries remained the same. Brazil, Italy, and Poland saw a 1 percent increase in their case rate; France and Czechia saw a 2 percent drop; and Russia, Spain, and Indonesia saw a 1 percent decrease. In other words, little change as COVID seems to be holding its breath. The question is, will it level off, continue to tail downward, or jump ahead at some future point.
Vaccination Ramps Up
The U.S. is reportedly vaccinating 2 million people per day. More than 75 million people in the U.S. have received at least one done and 24.8 million have received both doses. Globally, those numbers are at 244 million and 53.5 million, meaning that the U.S. accounts for almost half those fully vaccinated.
The U.S. FDA just allowed the use of Johnson & Johnson's coronavirus vaccine. This differs from the prior vaccines issued in the U.S. in a number of ways, but most obvious to the recipient is that it works with only one dose, although there might need to be a booster in a year or two, according an interview with the J&J's Chief scientist.
More importantly for many, this vaccine is a more traditional adenovirus and does not use the mRNA technology. The different technology means it does not need special freezers and can be stored in traditional refrigerators. This may make distribution and use in rural areas and third world countries less of a logistical nightmare.
The Johnson and Johnson vaccine is 85 percent effective at preventing severe cases and 72 percent effective against moderate cases, lower than the Moderna and Pfizer vaccines, but well above the FDA requirement and more effective than the standard flu vaccine. There were no deaths or hospitalizations among recipients during the initial trial, while seven people who received the placebo died.
COVID-19 and the Flu
While COVID-19 ramped up, cases of the flu were at record lows. Are flu cases being misreported as COVID, or are social distancing, masks and closures minimizing transmission of the flu?
This article wonders, as we have, if the flu was just renamed COVID-19 in 2020-21 flu season. Now we just need some research to find out if the flue is being called COVID-19 or if keeping kids home from school during the peak of flu season is a contributing factor.