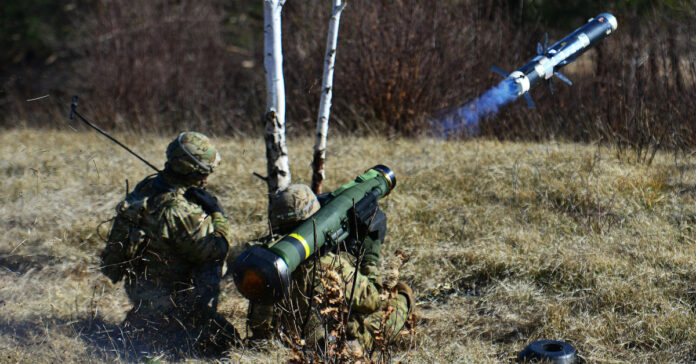 I've been trying not to write about Ukraine every day, but there's so much going on, so much breaking news, that it's difficult not to do so.
Here's my recap of what happened in the past two days:
Monday – the Russian Army Advances
On Monday, intelligence reported Russia moved artillery and missile launchers into firing positions. They also reported long bumper-to-bumper convoys or Russian troops and armor heading from parking lots into "attack positions." The number of Russian troops in the area has reportedly risen from 130,000 to 150,000.
Satellite photos show fighter jets, attack helicopters, and heavy lift helicopters have moved closer to the border. The experts consider movements like this the last step before an attack.
This would seem to be prima facie evidence of a pending attack. Here's how I look at it:
When you know there is a bear in the distance, you do what you can to keep it in the distance
If the bear is outside your house and growling at you, you get your gun out and load it.
When the bear is charging at the door, you cock the gun and aim it.
Let's hope Ukraine is loaded for bear.
Tuesday – Russia Fires Salvo in The Propaganda War
On Tuesday, Russia tried another tactic. It announced a withdrawal after concluding its military exercises and showed pictures of tanks being loaded onto trains.
Sounds great, doesn't it? But wait! Meanwhile, work continued on field hospitals, and there is scant physical evidence troops are withdrawing. Ukraine and its allies took a wait-and-see approach, stating they will believe Putin is withdrawing only when the number of troops and weapons near the border is significantly reduced.
I expect this is a feint, or misinformation, designed to 1) make the U.S. look alarmist and foolish, 2) give hope to the Europeans and their peace efforts so they spend less effort sending weapons to Ukraine, 3) to get Ukrainian troops to relax so Russia can regain its advantage and launch a surprise attack, and 4) to help make Putin look magnanimous.
I expect the Ukrainian army knows the bear is out there and is using this time to move resources and manpower to where they will do the most good.
Putin can talk about peace all he wants, but somebody hit Ukraine with a wave of cyberattacks on Tuesday, targeting the government and major banks. We've been warning that an attack on Ukraine could start with a cyberattack disrupting communications and other utilities. These seem to be more of a nuisance attack, trying to worry Ukrainian citizens and reduce their trust in the government and the soundness of their banking system and currency.
Other Indications of War
While only Russia knows if and when they will attack, we can observe what others think by their actions. For example:
Some airlines have stopped making flights into Ukraine airspace because insurers have said they will not insure planes going there. While the stock market might have bounced on the withdrawal news, it's too soon to see if third parties who have evacuated will change their mind.
The State Department, at least, is acting like they expect the Russians will take Kyiv. The U.S. has closed its embassy in Kyiv and moved its minimal remaining staff still in the country to Lyiv, a Ukrainian city close to Poland. Classified information held at the embassy has sent back to the States. The embassy staff destroyed their computer system and dismantled the phone system to reduce their intelligence value should they fall into Russian hands. The U.S. warned citizens warned to leave Ukraine while they still can. They also told them to leave Belarus.
Is it a Coincidence or a Distraction?
At the same time that all this Ukraine news is breaking, the U.S. just experienced an increase in the producer price increase (PPI) that was twice as big as expected. The PPI rose 1 percent in January, and 9.7 percent over the past 12 months. Not only is this bad news for business who have to pay more for wholesale goods, but it's bad news for consumer, to whom those price increase will be passed on. In short, this means inflation will continue its run up as prices rise.
Is it a coincidence that the Ukraine situation is creating so much news coverage there is no time for the media to cover inflation and the Durham investigation? The Biden administration can control what news about Russian forces they release and when they release it. Do you think their prediction about an imminent invasion was time to minimize the damage this other news could cause?