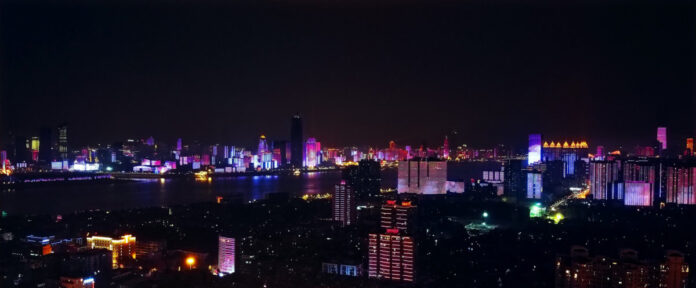 Assuming the Chinese government doesn't lie (which may be a faulty assumption) we'll know how the diaspora affects their COVID-19 cases in the next 10 to 20 days. If things go poorly, it could serve as a warning to the U.S. and European countries looking to relax some of their restrictions.
Here in the U.S., there is good news and bad. The reported COVID-19 case count climbed to 397,754, an increase of 31,516 or 9 percent, marking the third consecutive day where growth rates stayed in the single digits. However, President Trump's prediction of "horrendous" days ahead with lots of death appears to be coming true as the U.S. reported 1,997 deaths in the past 24 hours, bring the known toll of this virus to 12,956 in the U.S.
New York State also experienced its deadliest day as the virus claimed 731 lives in the state. However many other metrics for the state seem to be dropping, including hospitalizations and ICU admissions.
Globally, COVID-19 cases increased to 1.447 million with more than 83,000 deathers.
Some Good News
On the good news front, an updated model using the latest data shows the anticipated death toll in the U.S. has dropped from 200,000 to about 80,000, with far fewer hospital beds being required. (Expect to see members of the administration crow about this at tonight's press conference.)
And while those new numbers will be welcomed by many, they are predicated on keeping schools and businesses closed until August. Enforcing a lockdown for four more months is likely to be difficult and demoralizing.
State Data
As the coronavirus seems to be slowing in New York, cases are growing faster in other parts of the country. Here's today's data as reported by the New York Times compared to data from a week ago. By looking at the growth over a period of seven days, rather than just one, you can really see how quickly the virus is progressing.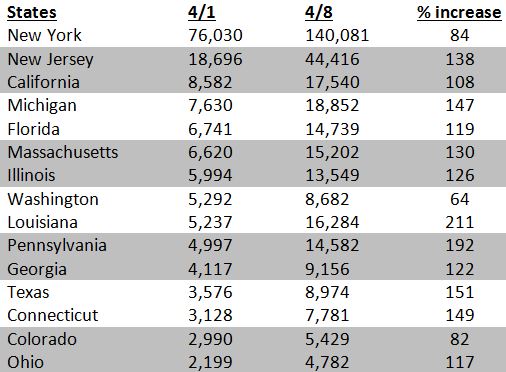 Looking at this data, it's quite obvious why public health officials are concerned about Louisiana and Michigan, where cases are driven by New Orleans and Detroit. But Pennsylvania is also an emerging problem area, with cases clustered in the Eastern half of the state, near Philadelphia, and a smaller cluster in Western Pennsylvania in and around Pittsburgh. Other states that are still seeing rapid growth in COVID-19 cases are Texas and Connecticut.
More Bad News
In other bad news, more of our essential workers are getting sick, including those that work in grocery stores and meat packing. While anecdotal evidence from around the country seems to show most stores are re-stocked with greater product availability than a week or two ago, it's going to take more than a Plexiglas sneeze guard to keep these folks safe.
One of the downsides to people's increased grocery store reliance is that there is now less food being sent to food banks, many of which have experienced a surge of customers as the newly unemployed turn to them for help.
For a little perspective, check back at yesterday's report and see how the numbers have changed.