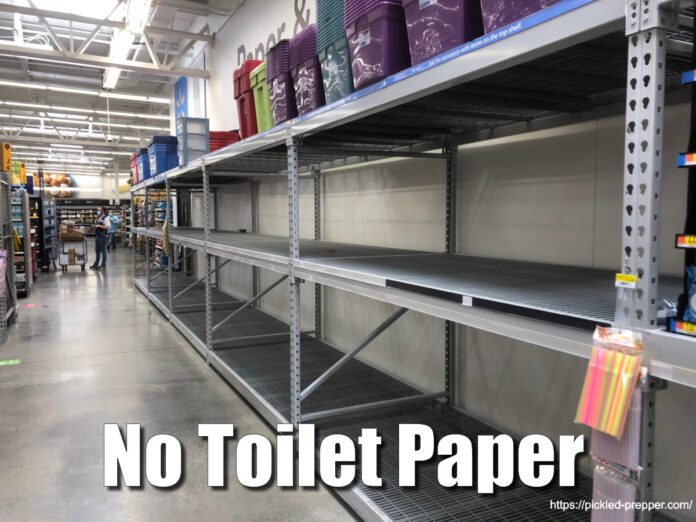 Yesterday, we wrote about the new lockdown in Australia. Well, the lockdown wasn't without unintended consequences. Shelves are bare again as "Panic Buying returns as Melbourne Braces for Lengthy Lockdown."
Are you ready for wave of panic buying in the U.S.? Have you restocked toilet paper and other essentials? How's your stash of canned soup, spam, flour and yeast? Have you re-stocked your freezer with meat?
More importantly, are you mentally prepared for the possibility of another lockdown? Can you imagine going into the fall with the kids at home doing so-called "distance learning?" Have you done anything to better prepare yourself for being potentially locked in and locked down through the fall and winter?
Yes, I think more lockdowns are coming. I think some state and county officers will panic, seeing big numbers of people who are "sick" even if they have no symptoms, and over-reacting by slapping on more shut-down and stay-at-home orders. We all need to be preparing for this possibility. Use the time now, while the stores are open and your freedom of movement is not impeded, to prepare. Get there before the panic buying starts.
By the Numbers
As expected, the U.S. surpassed 3 million cases of COVID-19, climbing to 3,014,100 in the past 24 hours. That's a daily increased of 56,100, return the U.S. to the 50,000+ growth rate.
Deaths jumped my 937, three times recent lows. We'll have to wait to see if this is the start of a trend or just a spike caused by undercounts over the weekend.
Global numbers were also up, with cases growing by 210,000 to 11.863 million. Yes, expect COVID-19 to reach 12 million cases by the end of the day. Global deaths were uo 6,121 to 544,949.