I just spent five days at our new house and I came home to find that all hell is breaking loose across the country. We have no TV up there and I didn't spend much time online, but here are a few things that occurred while we were gone:
Riots in Kenosha
More riots broke out, this time in Kenosha, Wisconsin. Complete with wanton destruction, looting, arson, etc. Rocks and bottles were thrown at police, cars on auto dealer lots were smashed and burned, garbage trucks were set on fire, furniture stores were burned down, and windows were smashed.
You can forgive the local police for not being prepared for the flash riot sprang up after a police shooting but there's really no excuse for being unprepared for the second day.
Yes, the governor called up the National Guard, but there's just no way 125 guardsmen can stand up to hundreds of looters. Until the police and Guard can flood the area with large numbers and arrest hundreds of looters and put them in jail cells for days, the rioting is probably going to continue until they run out of things to burn, smash and steal.
So far, they've hit a Boost Mobile, a used car lot, smashed street lights and traffic signals, a mattress store, and dozens of others, plus set fire to a Wisconsin Department of Corrections building. By the end of Monday night, flames were billowing from multiple structures and the police and Guard were largely ineffective.
You can see some on-the-ground coverage by visiting or following https://twitter.com/BGOnTheScene
California is on Fire
Massive wildfires are burning across the state as more than 10,000 lightning strikes set hundreds of fires. The fire in the SCU Lightning Complex has burned more than 360,000 acres. There are widespread evacuation orders and the fire is less than 25 percent contained.
Hurricane in the Gulf
Tropical Storm Laura strengthened into a Hurricane and is headed towards the border of Texas and Louisiana. The fourth official hurricane of 2020, Laura is expected to be a major storm, meaning at least a Category 3 when she makes landfall Wednesday night or Thursday morning.
Both Houston and New Orleans lie outside the primary target zone but are still expected to see tropical storm force winds and rain. Lake Charles, La., appears to be in the cross hairs. Some 300,000 people have been ordered to evacuate, and that number could rise as the storm strengthens.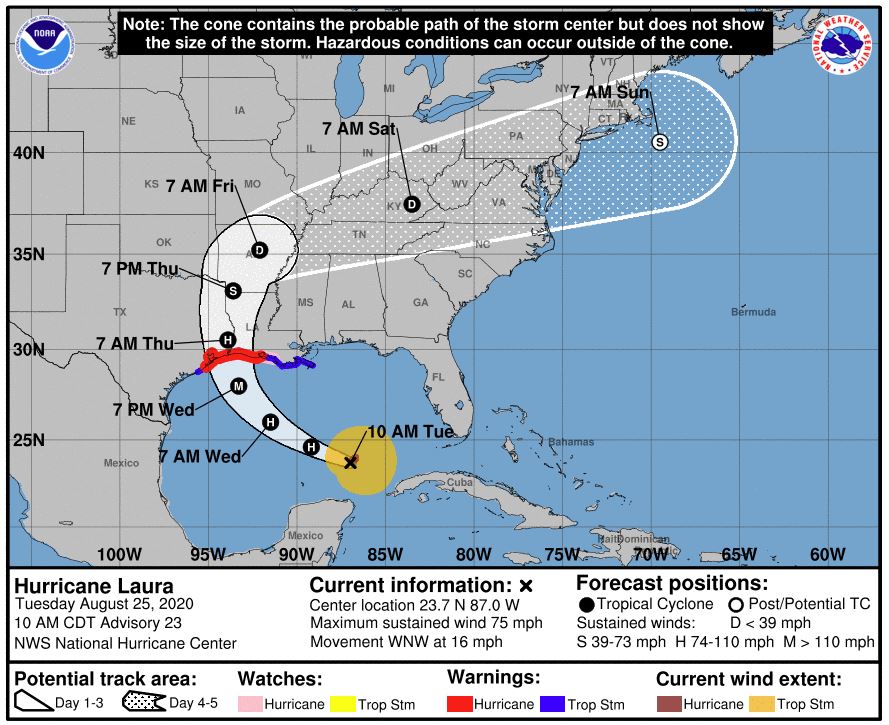 Kim Jon Un May be Dying
North Korean dictator Kim Jon Un may be dead, dying or in a coma as reports vary. Of course, we've heard this before and it could all be lies. Should the rumors prove to be true, his sister is expected to take over and rule with an iron fist.
Other rumors report that dogs are being rounded up and used as a source of meat to fight hunger in the country.
Coronavirus Rates and Deaths Drop in U.S.
Both the infection ate and the rate of death continues to drop across the U.S., even as colleges and universities start to report rising cases as in-person classes restart at some locations. For example, the University of Alabama has reported more than 550 cases. Both Notre Dame and the University of North Carolina at Chapel Hill have put a stop to in-person classes after outbreaks of more than 400 cases.
In the past 24 hours, there have been 40,351 new cases and 504 deaths in the U.S., bringing the totals to 5.75 million and 177,100, respectively. A round the globe, there are 23.68 million cases and 814,008 deaths reported. Numbers continue to creep up in Europe as the stage seems to be set for a second wave.
Stocks Hit New Highs
Looking at the stock market, you would never believe the country experienced a recession, is on fire, and is facing a hurricane that could disrupt oil production and deliveries. Indexes are hitting new highs while millions are unemployed, layoffs are rising, and businesses are failing. Home prices are surging while the specter of homelessness looms for millions as they are unable to pay their rent or mortgage.
The Fed keeps injecting money into the system, but it is not trickling down to where it can do the most good. At some point, what goes up must come down as the bubbles pop. Inflation is the watchword of our financial future and it means we are in for some hard times, eventually. Unfortunately, we don't know whether "eventually" means in six months or six years.
Cracks in the Foundation
COVID-19 demonstrated the fragility of our society, the weaknesses of our just-in-time supply chain, the fallibility of scientists and the predictions made by models, and how precarious the economy is. Many of these advanced systems depend on things continuing as they have been, yet change is constant. Combine this with civil unrest, political fighting, and the ongoing struggle for power and you can see the cracks starting to show.
If you have not considered prepping as a lifestyle, we'd recommend you do so now because there are just some weeks when all hell breaks loose.