Today's review of the UTG MNT-955 flip-up rear sight and the MNT-755 flip-up front sight will not only be a review of those sights but will also include a comparison with the A.R.M.S. 71L front and rear back up iron sights (BUIS) reviewed last week.
As you may recall, my aim in acquiring new BUIS is to outfit all the ARs in my possession that have only red dot optics or other scopes with a set of back-up iron sights for emergency use should the primary battery-powered optic fail.
Overview
The UTG sights I ordered from an eBay seller arrived quickly and neatly. The packaging was high quality and the sights inside were made from aircraft aluminum with matte black anodization. Both sights spring up with a push of your finger or thumb and lock into place. To lower the sight, you must press a small spring-loaded plunger, or button. This is intended to prevent accidental closure of the device.
The rear sight had a prominent knob for adjusting windage that offered both tactile and audible clicks. The knob had an arrow and the letter "R" directing me which way to turn to move the point of impact to the right. It was easy to read without resorting to magnifying classes. The rear sight also has two different sizes of apertures.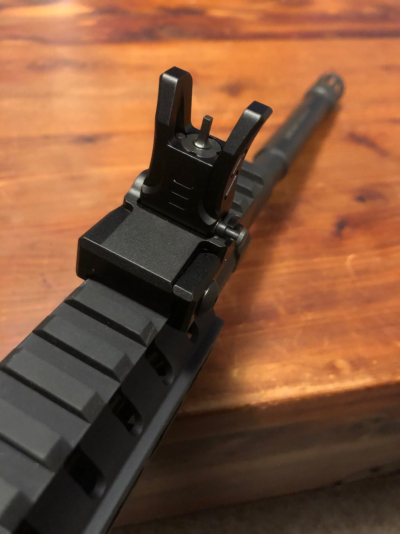 UTG's front sight had prominent ears that appeared to be even more robust than on the standard AR sight. The front sight post works just like standard A2 front sight post.
Both sets of sights appeared to have a polymer detent inside the hinge area. I do not know if this had to do with locking the sight up or down or if it is a potential point of wear or failure.
Mounting
I mounted these on a 16-inch AR-15 in front of a Holosun 510C reflex sight. They affixed firmly to the rail using the supplied Allen wrench. I saw no sign of thread locker. In this position, the larger aperture worked perfectly and I could get a good sight picture through the lens of the Holosun optic.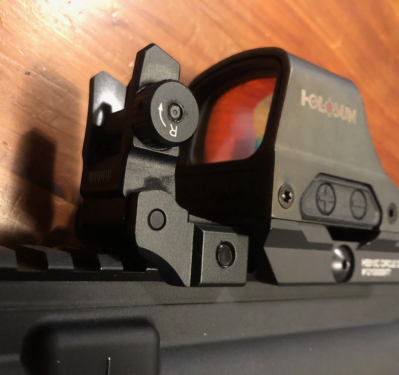 Because of the inclement weather, I did not yet shoot these. However, the sights co-witnessed perfectly with the holographic sight and I expect they will work just fine in the field. Just handling this gun reminded me how nice the Holosun optic is.
Quality
I own a 15-inch long UTG super slim rail I bought to replace an old quad rail on a Rock River upper, and I am quite pleased with it. The rail was made in the USA while these sights were made in Taiwan. In my opinion, that's far better than being made on mainland China. While I haven't run these sights through their paces or carried a gun equipped with them for a few weeks in the field, there were no obvious quality issues. I felt the UTG sights were more delicate than the A.R.M.S. sights. For example, I think the plunger could bend or fail during rough use.
There is the line on the packaging that says, "Made for Civilian Outdoor Sporting Applications." Hmm. Does that mean these are not robust enough to hold up for combat? Or is it simply language put their for customs duty purposes or to avoid online restrictions on the sale of "assault rifle" parts and accessories? For instance, I bought these on eBay, where the sale of assault rifle parts and accessories are banned, yet these clearly fit my AR. (Shhh! Don't tell eBay.)
In comparison, the A.R.M.S. sights were labeled "Tough Combat Polymer Sights." I don't know about you, but I would rather have tough combat sights than sights for civilian sporting use. Maybe this is just marketing, but as a prepper who one day may need their weapon for hard use, can you afford to take that chance?
UTG Flip-up Sights vs A.R.M.S. 71L BUIS
If you handed me both sets of sights and said "pick one," I would pick the 71L because they feel more rugged and robust, despite being made from a polymer. The UTG sights cost me about $49 while the A.R.M.S. sights were $70. Whether that extra apparent toughness is worth $20 is a question for you to answer, but it's worth it to me.
The UTG BUIS has some advantages, such as clearer markings on the sights, and fancier packaging through which you can see the contents. If I were a retailer, I would prefer the UTG packaging both for ease of display and its eye-catching red-white-and blue design. Unfortunately, once the sights are on the gun, packaging matters not one whit.
Whether you prefer the straight screw of the A.R.M.S. sight base or the hexagonal screw head of the UTG sight base that requires an Allen wrench rather than a flat screw driver is another personal call. I would say that the ability to use a flat screw driver blade or a substitute, such as a key or even a cartridge rim, is preferable in the field. However, so many gun-mounted devices rely on Allen screws, you can't hold it against UTG. They have become the de facto standard for optics and mounts.
Pros
Made from aluminum, not plastic
Inexpensive, especially for metal sights
Quick and easy to deploy
Standard sight picture you should already be familiar with
Not made in China by the CCP
Cons
Looks and feels more delicate than durable and the plunger may be a weak point
Designed for civilian use, not combat
Can be difficult to fold back down
Rating

While I would not buy these again if the A.R.M.S. sights were also available, I will keep these and try them out in the field. They are far better than nothing and more reliable than the no-name Chinese-made sights that proliferate on Amazon and eBay. While not a great product, they are not bad. Should anything change after my testing progresses, I will update this post.
In the meantime, let us know in the comments below what are your favorite back-up iron sights.