COVID-19 growth may be slowing in the U.S. as cases grew to 123,617 since this time yesterday, an increase of 20,981 or just over 20 percent. Two consecutive days of 20 percent growth, down from a rate that was between 25 and 30 percent, is positive news and maybe an early sign that the lockdown orders are working to flatten the curve. What we need to see is that the rate of growth continues to decline even as testing ramps up.
Case growth in New York State, the epicenter of U.S. COVID-19 infections also slowed, climbing only 16 percent to 53,363, a jump of 7,359 cases in the past 24 hours. The reduction in the rate of growth is also good news and should help New York's aggressive hospital building plan stay ahead of demand. Right now, New York has 7,328 people hospitalized with 1,755 in ICU units.
While COVID-19 growth may be slowing in New York, other states continue to see significant increases, as you can see from this list of the 15 worst-hit states based on data from the New York Times: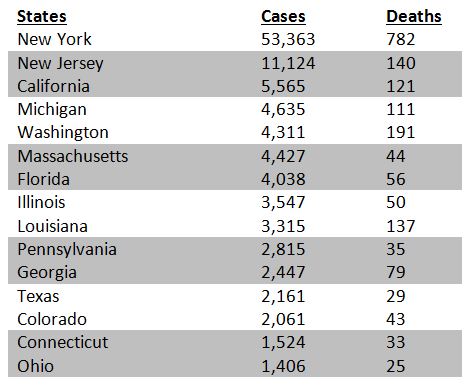 While we may expect to see high numbers in New Jersey, California, Washington and Louisiana, the presence of Michigan at the fourth worst state and Illinois and Pennsylvania in the top 10 are more of a surprise. While one might expect Connecticut to be higher due to its proximity to the New York city area, the appearance of Texas, Colorado and Ohio, states that don't come to mind when someone says COVID-19, are somewhat shocking.
The spread of the coronavirus in Europe appears to continue unabated. As illustrated by the opening graphic, there are now more than 684,000 reported COVID -19 cases and 32,000 reported deaths across the world.