The country has seen a decrease in both the number of new COVID-19 cases reported and its rate of growth, a significant piece of good news. Reported cases of COVID-19 increased 18,378 to 141,995, an increase of 15 percent. Deaths also grew more slowly, climbing 353 to 2,486, an increase of 17 percent.
Cases in New York also decrease, growing only 12 percent to 59,568. Yesterday, New York Governor Cuomo reported two consecutive days of a decrease in the number of new admissions to both hospitals and ICUs, which is good news for the state and, because it represents a significant portion of the country's cases, the United States. As you can see in our lead graphic, Cuomo pointed out in yesterday's press conference that while cases in New York are still growing, the rate of growth is slowing.
Globally, the world has reported 738,000 cases, an increase of 54,000, an increase of only 8 percent.
Lockdowns Appear to be Working
While 18,000 new cases of the coronavirus in the U.S. sounds like a big number, if cases had continued to climb at rates we saw a week ago, today's number could well have been 30,000 to 36,000. The decrease in the rate of growth is proof that social distancing, lockdowns, shutdowns and other stay-at-home plans are indeed working to slow the spread of COVID-19 infections.
As you can see in the chart below, which is based on data published by the New York Times, growth in some states is outpacing others.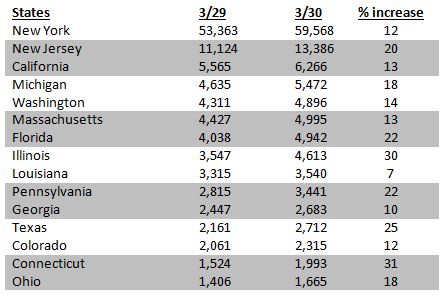 Missing from all this data is the number of people who have recovered from known cases of COVID-19. Johns Hopkins reports the total number of recovered is in excess of 156,500, with 4,865 in the U.S.
Wherever you live, the best thing to do is stay at home. If you can't, then do your best to practice social distancing and good hygiene. That's the best way to