Reported COVID-19 cases in the U.S. grew 25,236 in the past 24 hours, reaching 805,772. This is an increase of 3.2 percent. Deaths attributed to COVID-19 in the past 24 hours were up 2,498 to 40,316, an increase of 7 percent.
The U.S. has stabilized at around 25,000 new cases and 2,000 deaths daily. Reaching this plateau is enough to start talk about reopening, with several governors planning to do so in the next 10 days.
To put those numbers in perspective, just one month ago, on March 22, the TOTAL of all U.S. cases was 24,380 and we had just 240 deaths.
My, how things change in 31 days.
Of course, cases grew 36 percent on March 22, so we've made significant progress in slowing the rate of disease spread. This has kept the health system from being overwhelmed and the field hospitals largely empty. But 2000 deaths daily is enough to make the novel coronavirus from WuHan the leading cause of death in the U.S.
Globally, the total reported case load reached 2.593 million, an increase of 95,000 or 4 percent. That's the largest increase in world wade cases reported in some time. Meanwhile, deaths closed in on 180,000 worldwide, an increase of just under 5 percent.
State Report
With New York representing only 16 percent of the 25,000 new cases per day, cases have to be coming from somewhere else. Here's a state-by-state report showing case growth over the prior week: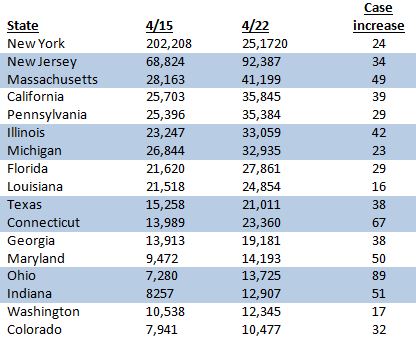 Compared to a week ago, Massachusetts is the fastest mover up the chart while Washington continues its consistent move downward. Ohio has popped, largely due to the high number of cases in its penal system, which we discussed yesterday.
At first glance it seems like Georgia's planned reopening might be premature, seeing as how they are among the states with the fastest rate of coronavirus spread. Just based on these numbers, Washington, which was among the earliest states to implement a shutdown, should probably be the first to reopen.
Want to put today's numbers in perspective? Refer back to data from yesterday, a week ago or a month back when there were only 312,000 cases globally.