The New York Times now reports that COVID-19 cases are growing in 38 states (see charts, above) and decreasing in only two (Rhode island and New Hampshire). The spikes in places like Florida (11,458 cases in 24 hours), Texas (6,289), and California (5,225 cases) shows how early progress in controlling the virus has eroded as reopenings continue to contribute to the spread.
In the past 24 hours, the U.S. has reported 47,200 new cases, bringing the total to 2,859,700. Deaths increased by only 272, to 129,680. With deaths continuing to hover around 500 per day, you have to ask: are we looking at the wrong metric? Why are we worried about new cases if only one half of one percent of them are deadly?
President Trump is reportedly set to tell the country that we need to "learn to live with it." That may indeed be the case.
Big Questions Remain Unanswered
Despite the news coverage around new cases, many questions are not only unanswered, but also often unasked. Here are few:
Will kids be going back to school in less than two months?
If grades 1-12 do not reopen what impact does this have on dual-income families who suddenly have no child care? Does one parent have to stay home, and if so, do they then qualify for unemployment?
How many college freshmen will defer and take a gap year? Will college enrollment decline?
Will colleges have to set up "quarantine dorms" for students who test positive? If so, will they then have to offer both in-person classes for those who are on campus and online classes for those who wish to stay home or who are in quarantine? Will the quality of college classes and degrees then suffer?
Can college and professional sports successfully return, and what will it mean for the economy if they cannot?
How many municipalities will fail to make bond payments as tax income drops?
How many people will lose their housing when current "no eviction" rules expire?
Will consumer spending suddenly crash when the extra $600-per-week unemployment benefit goes away?
Will congress pass another stimulus bill?
How will COVID-19 affect the election?
On April 8, just about three months ago, we predicted that it would take three years for the impact of COVID-19 on our economy and our lives to dissipate and for life to get back to normal. Nothing we're seeing today changes that prediction.
Global Cases Grow
Globally, there were 180,000 new cases reported, for a total of 11.304 million. Deaths ticked up by 4,656, to 531,659.
Here is the data showing week-over-week growth of COVID-19 for the week ending yesterday: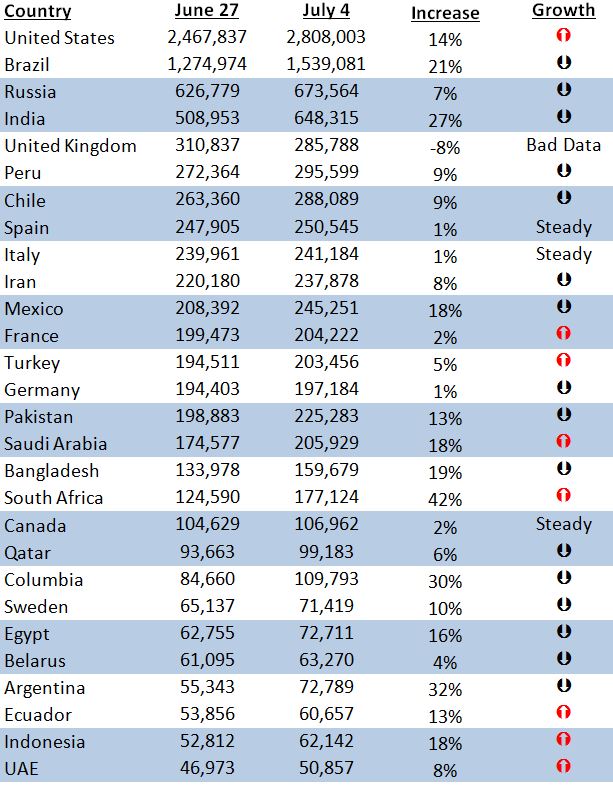 While places like Spain, Italy and Germany see very small increases — less than 1 percent each week — COVID-19 cases in the United States are growing at 14 percent per week. It's no wonder the EU is banning travel from the U.S.
As you can see in the table, there are plenty of other countries with double-digit growth. South Africa ranks fastest with a growth of 43 percent in the past week. India and Brazil are seeing growth slow on a percentage basis, but are still adding tens of thousands of cases per day. India reported a record 25,000 cases yesterday while Brazil reported almost 38,000.