The U.S. reported just 51,300 cases of coronavirus yesterday, well below the recent average. This 1.1 percent increase brings the total number of cases to 4,679,700. There were only 421 deaths reported, for a total of 155,336.
While cases continue to be worse in the South and California, the rate of increase seems to be stabilizing. The New York Times reports that the rate of infection is now growing in only 17 states and protectorates, is stable in 30 and is slowing in 7. Deaths, however, are increasing in 30 states. California has more than 500,000 cases and 9,399 deaths.
Global Data
Globally, there are now more than 18 million cases of COVID-19. 258,000 new cases were reported in the past 24 hours, bringing the total number of cases to 18.117 million. Death grew by about 5,000 to 690,181.
Here's a look at global case growth in the past week: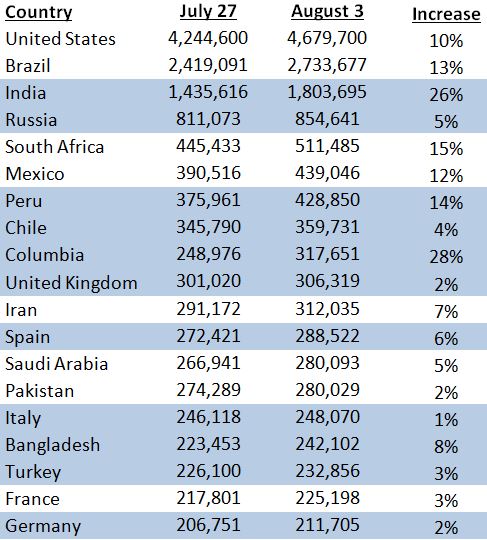 What strikes me as most interesting is that no one is reporting just 1 percent growth, which is what we previously saw in much of Europe. It is also obvious why a number of countries are prohibiting visitors from Spain. We might not think 6 percent growth in a week is bad, but when you are used to 1 percent, it represents a big increase. Across the world, countries have seen what happened in the U.S. with our second bump of cases and they desperately want to avoid the same thing happening o them.
While numbers appear to be dropping in Brazil, there is no way to know if that data is credible. India continues to see rapid case growth, which is not unexpected.
Not represented above, Australia, with only 18,318 cases, has locked down Melbourne and is enforcing a curfew to prevent socializing and the spread of coronavirus. Japan, with just over 40,000 cases, is also seeing increased spread.