While there were 34,491 new COVID-19 cases yesterday and 332 deaths, the big news this weekend is that President Trump, the First Lady, and many Whitehouse advisors and staffers, along with a few senators, have been infected with COVID-19.
In the long run, this probably changes nothing. In the short run, it gives the media a story to focus on. Although I doubt Trump wanted constant media coverage for being whisked off to Walter Reed Medical Center and getting Oxygen and a host of different drugs, it probably does create some sympathy for him.
Outside Capitol Hill, the number of cases continues to creep slowly upward even as the number of deaths continues to decline. We have previously blamed the uptick in cases on students returning to classes and increased testing. If you look at the heat map, the Midwest, from Wisconsin and Iowa down to Missouri and Arkansas, are the hot spots, at least in terms of percentage of case growth, if not number of cases.
Look Out New York
There is much talk about New York City becoming an emerging hot spot, with clusters of coronavirus breaking out in 20 different zip codes, some of which have up to 18 percent of tests coming back positive. That may be true, but there are only 618 people hospitalized due to COVID-19, down from 18,000 six months ago.
Another big coronavirus news item is the postponement of two NFL football games as players and coaches have tested positive in Tennessee. While it seems the league has managed to work around these postponements, we have to wonder what will happen in week 13 or 14, as the playoffs loom, if 15 or 20 personnel from a team suddenly test positive.
Something that got very little news coverage: Amazon reported this week that just fewer than 20,000 of their associates got COVID-19. That's more than Walmart or any other company we know of.
Global Numbers
Once again, the world added more than 2 million cases of the coronavirus in just one week, bringing us to 35 million cases. India continues to turn in big numbers, often twice what we are seeing in the U.S. You can see the full details below.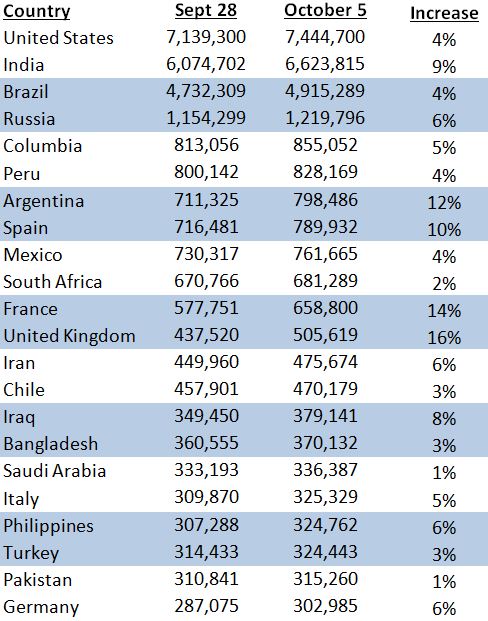 European countries continue to move up the chart, with Spain surpassing Mexico in the past week. Also moving up two places, the UK showed significant growth, surpassing Chile and Iran, and Italy, passing Turkey and Pakistan. Iraq also moved up one, passing Bangladesh, while Argentina surged past both Spain and Mexico.
While the UK saw 16 percent growth week over week, France was close on is heels with 14 percent. Spain remains in double digits, with 10 percent growth while Germany, holding on at 6 percent, was up from 4 percent the week prior. There is no denying that cases are growing in Europe.
While the U.S. remains generally open, with some exceptions, Europe is shutting down and cracking down on those who resist limits. Residents in and around Madrid are not allowed to leave except for work, school and medical appointments, and the cops have set up checkpoints on highways to enforce the rules. Madrid has a rate of 730 cases per 100,000 cases, or more than seven out of every 1,000 people, which is the highest in the country.
Madrid isn't the only city with rising cases. Paris is contemplating new lockdown measures, including complete closure of bars and restaurants.
What this Means for Preppers
Here are a few things we have learned about the coronavirus this week:
Protective Bubbles Aren't Perfect
When one person gets the coronavirus, he or she can turn a large group gathering into a super spreader event without even knowing it. It has happened before in churches, at weddings, in business meetings, and in jails and meat packing plants. Now it is spreading in the Whitehouse and football stadiums, both of which are in bubbles and have frequent testing.
Lesson learned: Continue to stay away from large group gatherings if you wish to avoid COVID-19. Unfortunately, that means church and family gatherings.
Another Wave Cometh
The world, and to a lesser extent the U.S., is seeing the curve climb upwards, again. It very much looks like this fall and winter will see another explosion of cases. My prediction is that this means we will see a peak in cases that surpasses both the initial surge and this summer's second bump in the U.S., but without the same death rate as we experienced in April and May. It should be noted that there is some historical precedence for this as the Spanish Flu was worse in its second wave
Lesson Learned: Expect and prepare for disruptions like we saw starting last March, including:
Empty shelves due to panic buying.
Food shortages due to closures of factories and meat packing plants as a result of COVID-19 cases.
More lockdowns, including re-closing many of the businesses that have been allowed to reopen, including restaurants, hair salons, barbershops, gyms, etc.
Unemployment will rise again as many of the people who have gone back to work will be laid off again.
This may be the last straw for some struggling businesses which will be forced into bankruptcy. This applies to restaurants, small mom-and-pop stores as well as big companies like movie theaters and airlines.
Another stock market crash as people realize that the economy is going to take another hit.
States and cities will see less tax revenue and have to cut services and lay off employees.
People will continue to flee large cities as the quality of life in those cities sinks further and residents realize things like going to the theater and out to fancy dinners are just fond memories.
What Can You Do?
The good news is that we have a brief period of time in which you can prepare for further disruption. Get your masks, cleansers and hand sanitizers while you can. Build up your food preps. Buy a freezer if you can find one and stock it well. If you are working, save your money. If we get another stimulus check, don't blow it but keep most of it in the bank in case you lose your job.
My final word of advice? Buy your Christmas presents early or you will be telling your kids Santa can't come because he has COVID-19.
---
If you liked this article, we recommend Why you Need to Prepare for the Next COVID-19 Outbreak Now