The sudden downturn in U.S. COVID-19 cases we reported on last week continues unabated. The 7-day moving average dropped from 219,000 to 171,000, a decrease of 33 percent. The number of COVID-19 patients in hospitals is also dropping, although more slowly, and deaths slowed slightly before leveling off.
In the past 24 hours, 129,527 new cases were reported with 1,815 deaths and 110,628 hospitalizations. The New York Times now reports that cases are going down in 44 states, Washington, D.C., and Puerto Rico. The country now has a total of 25.1 cases reported.
Global Data
Globally, there have been 99.3 million cases and 2.1 million deaths. Global case numbers are also dropping, with about 447,000 reported in the past 24 hours. Here's a look at the latest table illustrating week-over-week cases growth: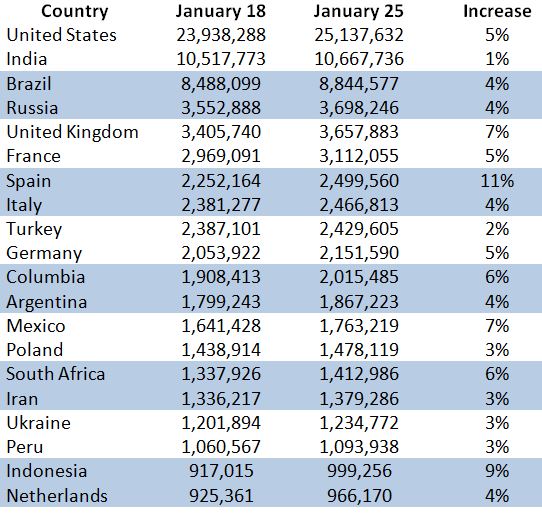 In this week's chart, Spain overtook both Turkey and Italy while Italy itself surpassed Turkey in reported cases. Spain, which is the only country among the top 20 to see its rate in double digits, is also the only country on our chart to have seen its rate of case growth increase. Spain remains under curfew although the results are clearly dubious at best.
At the bottom of the chart, Indonesia overtook the Netherlands and is poised to break the million mark in the next 24 hours. This will make Indonesia the 19th country to have more than 1 million cases.
Vaccination Update
As of January 23, some 20 million doses of the vaccine have been given in the U.S. This does not mean 20 million people have been vaccinated, since people need two doses about three weeks apart, but we would estimate that round 15 million, or about 5 percent of the country, have gotten at least one shot.
Is the vaccine responsible for the plunge in COVID-19 cases? There does not appear to be a definitive, scientific answer, but the anecdotal evidence certainly appears to point to a correlation.
In a bit of bad news, Moderna reports that while its vaccine is effective against the current COVID-19 variant ravaging the UK, it is less effective against a new variant emerging in South Africa.