In the past week, global COVID-19 cases climbed to more than 90 million, an increase in excess of 5 million. Almost 2 million have died around the world.
Also in the past week, on January 8, the U.S. saw more than 300,000 reported COVID-19 cases. Domestically, U.S. cases are now in excess of 22.4 million with about 375,000 deaths. Of those, more than 12 percent, some 2.71 million, are in California.
To break this down on a state level, California broke the 50,000 per day mark last week and is averaging more than 42,000 per day. That's about twice as many cases as the entire country experienced back in April and May when the first wave of the virus was peaking.
Texas and Florida, which lead the way in the summer outbreak and have 1.97 and 1.48 million cases, respectively, are both averaging more than 20,000 cases per day.
New York, with 1.14 million cases total, is seeing about 15,000 cases per day. This is about three times as many as they saw in the first wave last spring when the state was the epicenter of the U.S. outbreak. New York is also testing a record number of people, more than 200,000 per day.
LA is the New New York
In April 2020, we had New York, full of mass transit-riding, high-rise dwelling people who were afraid to punch the elevator button for fear of getting COVID-19. The city was locked down and the streets were deserted. Now we have Los Angeles, also under lockdown, which is far less dense and less dependent on mass transit. Yet California has far more cases of COVID-19 that new York did then, or now.
In Los Angeles County, California, one in five COVID-19 tests are coming back positive. Hospital beds are scarce and doctors expect they may have to refuse treatment to some patients, literally choosing who is likely to live and die. And it doesn't show any sing of letting up, yet.
Global Numbers
Here's a look at the growth of COVID-19 cases in the 20 countries with the highest number of reported cases.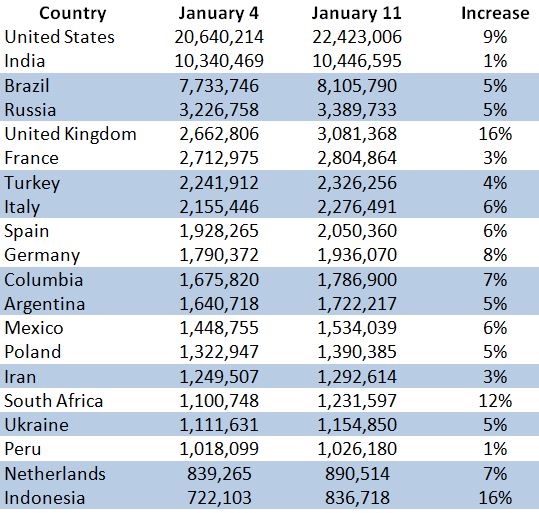 In the past week, the UK has surpassed 3 million cases and has over taken France to hold fifth spot on the list of countries with the most cases. South Africa has also moved up a spot on the above chart, overtaking the Ukraine. Both the UK and South Africa have variations of the COVID-19 virus that may be more contagious than the original strain. Their growth rates give us an idea of what the world could be looking at should those strains spread.
While the UK is holding at 16 percent growth, South Africa grew from 10 percent last week to 12 percent this week. Brazil also saw a 2 percent increase, to 5 percent.
---
To see last week's data, refer to COVID-19 Plows Across the Country, Leaving Hundreds of Thousands Dead in its Wake.