President Trump has repeatedly warned that we are in the thick of things and the next week or two could see some horrendous numbers. "There's going to be a lot of death" due to COVID-19, he said at yesterday's press conference. Dr. Fauci says we're not even at half time yet.
New York Governor Cuomo repeatedly tells us that the apex is a week or two away. Yet some people think the United States is still at the beginning of the curve and the peak is still two months away. Let's hope the U.S. is further along that J.P. Morgan estimates.
From what I can see — and I am neither a statistician nor an epidemiologist — national numbers continue to grow, but the rate of increase is holding steady. This morning, the New York Times is reporting 311,536 cases, an increase in the past 24 hours of 35,154, which is a 13 percent rate of growth. At this rate, we'll see cases double every 5.5 days. If we expect to hit that apex any time soon, it would be god to see the rate of increase start to drop.
Deaths attributed to the coronavirus appeared to surge yesterday, jumping 1,377 to 8,499, or 20 percent. This is up over the prior day but may simply be due to data lag. But either way you look at it, there have been more than 2200 deaths due to Coronavirus in the U.S. over the pat two days.
In New York, which remains the epicenter of the U.S. epidemic, positive cases reached 114,704 with 15,905 people hospitalized and 4,126 admitted to the ICU. Close to 10,500 people in New York have been discharged from the hospital. Over the past five days, hospitalizations in New York have been relatively steady at around 1,200 per day.
Cases in New York City and the immediate area continue to drive the state's numbers and when you add Long Island and Westchester to the five boroughs, you quickly reach 100,000 cases.
Other States See Case Growth
Cases in New Jersey, which are concentrated in those counties closes to New York City, have now surpassed 34,000 with 847 deaths. Here's a look at case growth in the 15 states with the most cases over the past two days: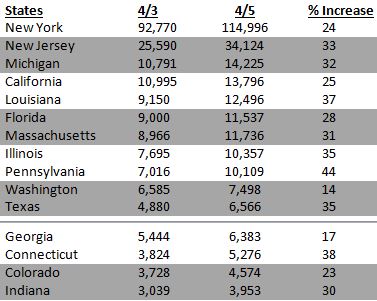 Note that in the above chart, we are looking at data over two days, not 24 hours. Doubling the time period to smooth out any inconsistencies in reporting.
In this latest chart, Michigan has moved up one, bumping California down to the number four spot, and Texas has passed Georgia. Indiana has moved into the 15th sport, bumping Ohio off the list of the. (This should tell you how bad the caseload in the metropolitan Detroit area must be.) Washington State moved down two spots, from #8 to #10 as case growth has slowed dramatically there. Both Washington and California were cases with early infections and their lower growth shows that the virus can be successfully battled.
Are these numbers horrendous? Well, the rate of growth is down from a week ago, but numbers keep rising, and that definitely isn't good.
For some perspective, read yesterday's report to see how the numbers have grown in 24 hours Is the COVID-19 Curve Flattening in the U.S.?