COVID-19 cases in the U.S. continued to show a slight reduction in growth, increasing at a rate of 13 percent in the past 24 hours to 276,382. This is still an increase of 32,154, which means there's a long way to go before we have this deadly virus under control. Still, from a percentage standpoint, it appears that progress is being made and the curve is flattening, even if ever so slowly.
Deaths in the U.S. continue to climb, reaching 7,122 a growth of only 865 or 14 percent. This is down significantly from the prior period's increase of 1,416.
When seen from a percentage basis, the curve continues to flatten somewhat in New York as well, as the COVID-19 cases grew only 11 percent, climbing to 102,870. The state has reported 14,810 current hospitalizations with 3,731 ICU admissions. Unfortunately, deaths in New York exceeded 500 in a single day and total 2,935.
There are now seven states that have more than 10,000 cases while 29 have more than 1,000. Both those record look like they will grow in the next day or two.
Global Growth
Globally, cases grew by more than 100,000 in the past day to 1.139 million while deaths surpassed 60,000. Remarkably, Spain has now surpassed Italy in the number of cases and their death toll is growing while Italy's appears to be slowing. While we at the Pickled Prepper tend to focus on the U.S. and its epicenter in New York, we should not ignore the massive growth in coronavirus cases seen across Europe as it its humanitarian and economic impact may exceed that in the U.S. Here is data from Johns Hopkins on the top 10 European countries: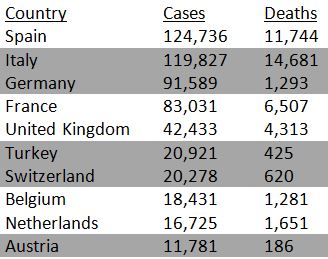 It's important to remember that these numbers, whether for Italy or the U.S. do not tell the complete story. Testing rates and policies differ and only cases which are officially declared COVID-19 are reported on a local or national level. According to the Wall Street Journal, this has led to significant under reporting in Italy. We would not be surprised if this is the case in other countries as well, including the U.S.
The Best Advice
As known cases grow, we can only speculate on how many unknown cases are out there. We probably all know someone who has had a cough, a cold, or didn't feel well and was not given a test. Are they secret carriers? How many asymptomatic carriers are out there shedding virus and spreading the disease without knowing it? We may never know.
Until tens of millions of rapid tests are available and widely used, the best advice remains: Stay home. Practice social distancing and wash your hands. But if at all possible, stay home and quarantine yourself.
For some perspective, read yesterday's report to see how the numbers have grown in 24 hours COVID-19 Cases Surpass One Million or look back a week: U.S. Tops 100,000 Coronavirus Cases.
Main illustration by Yuri Samoilov and used under the Creative Commons Attribution 3.0 license.