As expected, the U.S. count of reported COVID-19 cases exceeded half a million in the past 24 hours, climbing to 530,026, an increase of 33,390, or 7 percent. Deaths have climbed to 20,614, representing a slight drop.
While the leveling off of cases is a positive sign, when you look at case growth on a state by state basis over a one week period, you can see significant improvements in the rate of growth, with only Pennsylvania and Connecticut have seen cases more than double in the past week: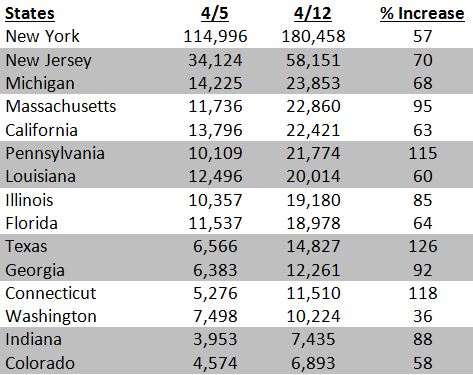 What is remarkable about the chart is that just eight days ago, 12 states had growth rates above 100 percent, meaning caseloads were doubling within a week. Louisiana went from 211 percent to 60 percent growth rate. Even Pennsylvania, which is seeing growth at 115 percent, is down from a previous 192 percent.
Also notable is what a good job California and Washington have done in controlling the rate of growth. These states had some of the first cases, but were also among the first to close schools and put in place stay home orders, which have clearly served them well.
New York, on the other hand, was slower to close schools and restrict movements. It is also clear that, as we stated some time ago, that the New York's experience has not lead to similar numbers around the country.
Speaking of New York, cases and deaths there remain at a constant rate of about 10,000 and just under 800 per day. The state has a total of 180,458 cases and 8,627 deaths attributed to COVID-19.
Globally, there are a reported 1.792 million cases, an increase of 77,000 or 4 percent. Deaths climbed to 110,000, about 7 percent. You can see that the U.S. continues to make up a significant portion of the global cases growth and death toll. In fact, the U.S. pulled ahead of Italy and no has more reported deaths than any other country.
For some perspective, read yesterday's report to see how the numbers have grown in 24 hours or look back a week ago when President Trump predicted horrendous numbers ahead.