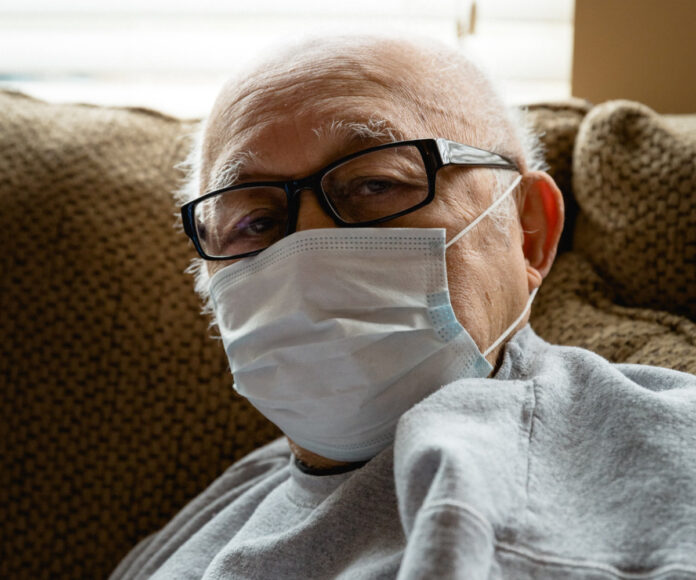 When it burst onto the scene in the U.S., the coronavirus was scary! We saw one lawyer from New Rochelle give it to eight different people and watched it quickly spread throughout the Jewish community and down into New York City where he worked. Before long, that one case was responsible for almost 200 additional cases that we know of.
Nationally, the number of cases was doubling every few days, and models – which have since been debunked, predicted millions of deaths in the U.S.
Passengers on cruise ships got it by the hundreds. New York got hammered and there were scores of cases in a nursing home in Washington State where many of the patients had died. Rumors of PPE shortages, predictions of hospitals being overwhelmed, and potential shortages of ventilators worried everyone from governors to individuals. People were frightened and when various government officials ordered the majority of business closed and told people to stay home, it seemed pretty reasonable.
Seven or eight weeks later, after we've lived through the peak of the coronavirus pandemic, we are more familiar with the virus and the fear is fading. It is no longer foreign to us. We know far more than we did, so it is no longer the great unknown. Here are a few examples of what we know today about COVID-19 that we didn't two months ago:
We know it mostly kills the elderly and infirm.
We know that minorities are affected at a higher rate than whites, probably because of their overall health, not necessarily due to any racial or genetic differences, but more research is needed.
There are approximately 100 vaccines in some stage of development, but only one drug that has been scientifically proven to improve outcomes for sick patients.
COVID-19 does affect some people especially badly and does some strange and unusual things to their bodies. More research is needed to determine why this subset of people gets this wide range of dangerous and often deadly symptoms.
We know that there are many asymptomatic cases and that perhaps 15 percent of the population in hotspots already has antibodies
We know that sunlight and high heat kill it
We learned from New York that many people who are getting sick were at home, not working or traveling. This raises the question of whether stay home orders protect people or not.
We know that it spreads in areas of intensely concentrated people, like prisons, nursing homes, places of worship, and meat processing plants.
We better understand how to treat it, both with drugs and equipment
We know Sweden never shut down and they are doing fine
We know that hospitals are largely empty and that many more traditional illnesses are not being treated because people are afraid to see their doctor.
We know Georgia reopened on April 24 yet two weeks later, had the lowest number of cases yet.
Surveys show many people will continue to stay home and practice social distancing, even after places re-open.
We see that the more testing we do, the lower the percentage of active cases we uncover.
Familiarity Makes Coronavirus Manageable
Now that we know more about how the coronavirus spreads, who it hits worst, and how to treat it, not only is it less frightening, but we can put it in context with other disease and prior pandemics. This gives us perspective. We can compare the harm done to the virus with the harm done to the country by the shutdown orders and see the stark choices we face.
With the information we have gathered over the first couple months of the outbreak, a couple things should be obvious to anyone with common sense:
We can safely reopen parks, beaches, and other outdoor activities with some social distancing restrictions in place, but we need to keep convert venues, sporting venues and other crowded places closed.
We need to keep nursing homes, continuing care facilities, retirement communities and other healthcare facilities under strict lock down to prevent spread among our most vulnerable populations.
We can probably re-open any state or county where there are not active hot spots, especially if people wear masks and practice social distancing.
Global Cases Top 4 Million
Johns Hopkins reports that there are more than 4 million cases of COVID-19 across the globe, with 279,734 deaths. That's 90,000 new cases in the past 24 hours and 4,337 new deaths.
In the United States, reported cases of COVID-19 increase 25,100, or 1.9 percent, to 1,316,400 in the past 24 hours. Deaths were up more than 1,500 to 78,763.
State-by-State Performance
As we do every Saturday, here's a look at how individual states are faring on a week-to-week basis.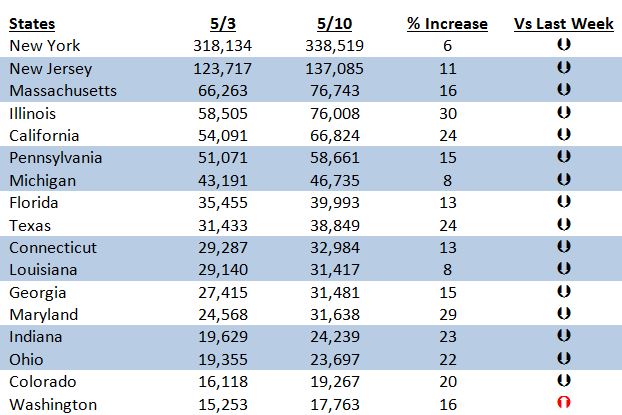 This data shows very clearly how successful states like New York, Louisiana, and Michigan have been in slowing the spread of infection. Washington is a bit of an outlier here as its rate of infection has increased after weeks and weeks of a slowing rate of growth. Perhaps this is a result of increased testing as the state has tested more than 240,000 people and has a positive rate of less than 7 percent.
When reviewing data from Washington, we noted that their death rate by age skews even older than New York's.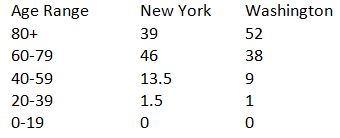 It is even more interesting to note that in Washington, only 9 percent of their reported cases are in the 80+ group while 30 percent are in the 20 to 39 age group. That means someone over 80 who catches COVID-19 is about 173 times more likely to die from the coronavirus as someone in their 20s or 30s. This chart really drives home how the coronavirus affects different age groups: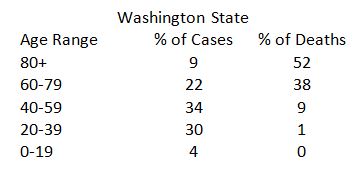 Something to think about as we reopen.
To put today's data in perspective, you can compare numbers to those from yesterday or a week ago.