Reported cases of COVID-19 in the United States increased 23,700 yesterday, reaching 1,474,600. This is an increase of 1.6 percent. There were 1,164 deaths attributed to the coronavirus, an increase of just 1.3 percent. The total number of death is now approximately 88,600.
Around the world, there were 92,000 new cases reported, up 2 percent, to 4.662 million. Global deaths climbed to 312,274, an increase of 4,137 or 1.3 percent. Cautious reopening continues across much of Europe even as cases rise in Russia, parts of the Middle East, and across South America. While protests grew in Europe, at least European soccer fans have something to watch: the German Bundesliga league held its first game on Saturday in a stadium bereft of fans.
State by State Numbers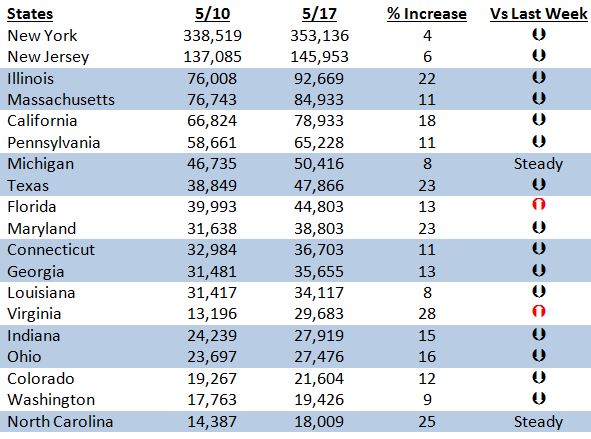 Illinois continues to move up the charts, surpassing Massachusetts by a wide margin. Virginia, with perhaps the fastest rate of growth in the country, has shot up several places, and North Carolina is making an appearance with an unhealthy 25 percent rate of case growth over the past week. The North Carolina Department of Health says their case rate is in line with their increased testing and that only 7 percent of tests are positive.
Florida, which has cautiously reopened, is up one percent while Georgia, Texas, Ohio, Indiana and most of the other states that have reopened are seeing cases continue to slow. After meteoric rises in April, both New York and New Jersey have really gotten control and slowed their case load, even in the face of increased testing.
To put these figures into perspective, you can look back at yesterday's report or numbers from a week ago.