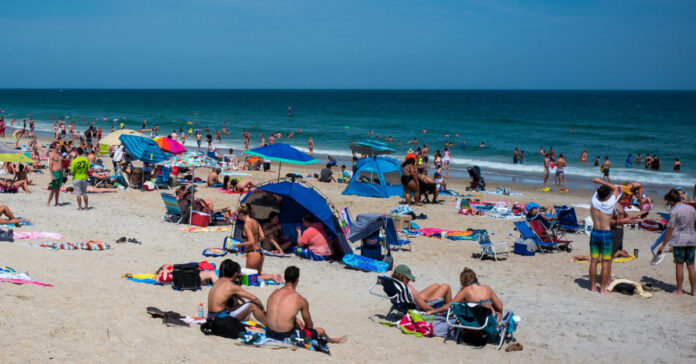 My grandfather served in the Navy in WWII and my uncle fought in Korea. They both made it home alive, but knew plenty of men who did not. They are no longer around to remember, so I remember and honor their comrades in arms on their behalf. Thank you and the many others for your sacrifice.
The Great Beach Experiment
Based on what we've seen in the media, summarized in this round-up article from ZeroHedge, beaches up and down the East Coast are flooded with visitors this Memorial Day weekend. Tired of being under lockdown, thousands of American are heading out and ignoring social distancing. Few choose to wear masks.
And you know what? I'm fine with that.
I'm not leaving home because I have no desire to catch the coronavirus and bring it home to my wife, who has asthma and has suffered from pneumonia on multiple occasions. But just because we're going to continue to play it safe doesn't mean I expect everyone else to do so, and that's what separates my attitude from the governors and mayors who want to keep us all locked inside and force businesses to remain closed.
I'm looking at the Memorial Day weekend beach crowds as a massive experiment willingly undertaken by thousands of volunteers. In two or three weeks, we'll either have fresh outbreaks among people and families who went to the beach, or we'll have proof that sunlight and high temperatures really does kill the virus and prevent infection. Either outcome will give us valuable data as we try to decide what we do next.
I felt the same way about Georgia reopening: Someone has to go first, let's see what we learn from them. Cases in Georgia have continued to fall and more and more states have now reopened. We can hope for results just as positive from the Memorial Day vacationers.
Here's another way to look at it: People trapped in nursing homes who got COVID-19 didn't have a choice. People who went to the beaches did.
Coronavirus Numbers
20,100 new cases of coronavirus reported in the U.S. in the past 24 hours, bringing the total to 1,651,000. This represents an increase of 1.2 percent increase. There were only 635 reported deaths, the least since March, bringing the total to 97,684.
Globally, Brazil raced past Russia to become the country with the second highest number of reported cases at 363,211. Brazil reported some 22,000 cases in the past 24 hours, more than the U.S. reported. With 210 million people, Brazil is the sixth most populous country in the world.
Worldwide, cases increased 101,000 to 5.436 million, an increase of 1.9 percent. Deaths increased by 3,918 to 345,467.
---
To put these numbers in perspective, you can look at yesterday's report or last weeks's update.
Cover photo is of the beach at Wilmington, NC in 2017 by Sergey Galyonkin from Flikr and has been cropped. Used by BY-SA 2.0.