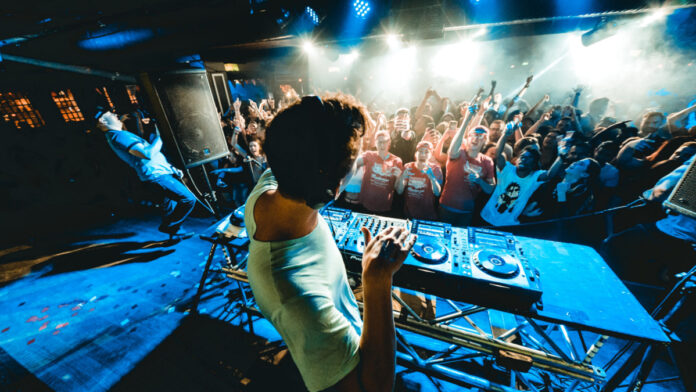 There is more and more evidence that coronavirus spreads best via aerosols and in crowds. To avoid infection, stay out of crowds, avoid places where people are packed together closely, and minimize time spent face-to-face with other individuals.
This shouldn't really be a surprise, and we have given this advice before, but both scientific and anecdotal evidence reinforces this position. For example:
This just drives home the point: Avoid concerts, sporting events, bars and other crowded activities, especially those held indoors.
Today's Numbers
The United States reported 24,900 new cases of coronavirus in the past 24 hours, an increase of 1.2 percent, bringing the total case load to 2,148,900. Deaths climbed 769 to 116,797. That's an increase in deaths attributed to COVID-19 of less than 0.7 percent.
Globally, 142,000 new cases were reported, an increase of 1.7 percent, bringing the global total to 8.205 million. Global deaths attributed to COVID-19 jumped by almost 7,000 to 444,426, in the past 24 hours, an increase of 1.6 percent.
At the current rate, approximately 1 million new cases of COVID-19 are being added Weekly. Brazil reports 923,159 known cases, and experts believe the actual number is much higher.
State Report
Here's a look at how the 22 states with the highest number of cases have performed over the past week: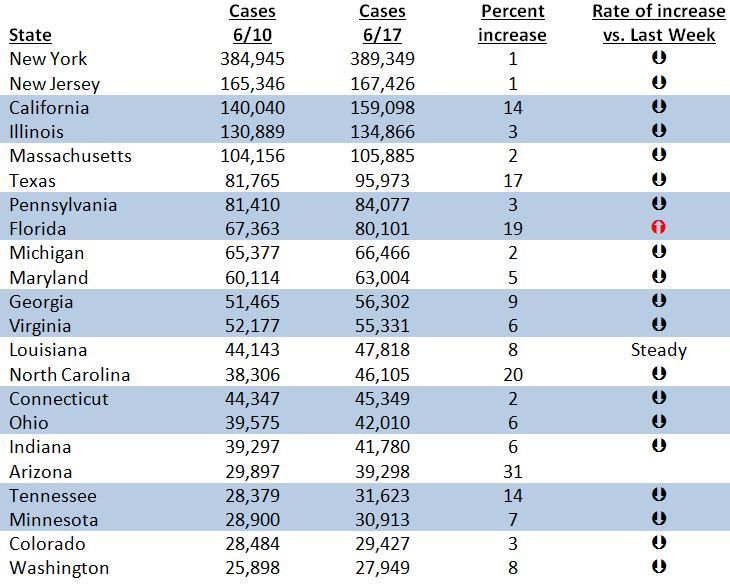 Florida is the only state showing an increase in the rate of growth, a remarkable improvement over the 8 states that were seeing an increase in the rate of infection last week. In the light of much media concern, it is sometimes reassuring to look at the data behind the spin. For example, while Florida's cases have grown 19 percent in the past week and calls to shut the state back down, the state still has a rate of only 373 cases per 100,000 residents. New York State has a rate of 2001 per 1000 residents, or more than five times as high. Texas, another state that has received much criticism for its growth, has an even lower percentage of its population infected: 331 per 100,000 or 0.3 percent.
Also of note, none of the top 10 states changed position, while there was some jockeying around in the next 10 with Georgia, Louisiana, North Carolina, Minnesota, and Tennessee each climbing at least one spot. Arizona has also been added to the table thanks to its recent surge of cases.
---
To put today's COVID-19 data into perspective, you can look back at yesterday's report or numbers from last week.