It was a busy weekend on the COVID-19 news front. For example:
Florida joined California in passing New York for the most COVID-19 cases reported. New York, once the epicenter of U.S. cases, reported only 536 cases yesterday, but continues to lead the nation with a total of more than 25,000 deaths.
Texas had its lowest number of new cases since July 13. Of course, the hurricane that hit Southern Texas may have interfered with people getting tested or data being reported.
14 players and coaches on the Miami Marlins baseball team have tested positive after a three-game series in Philadelphia and their home opener has been canceled.
President Trump's National Security Advisor Robert O'Brien tested positive for COVID-19. His symptoms are said to be mild.
Spain is reporting more than 900 cases per day, leading to other European countries to restrict travel to and from parts of Spain.
India reported 49,931 new cases overnight – its biggest increase yet.
Cases continue to grow in Germany, Australia and Hong Kong as a second wave of the coronavirus may well be rising overseas.
By the Numbers
More than 4,244,600 cases of COVID-19 have been reported in the U.S. with 146,754 deaths, according to The New York Times. This includes 54,212 new cases and 440 deaths in the past 24 hours. Cases seem to be declining or at least leveling off, in some of the hot spots.
The New York Times now lists 34 U.S. states and protectorates as "increasing" with case steady in 17 and dropping in 3. Florida, South Carolina, Texas, and North Carolina are among those hot sports that have slipped off the increasing chart. Arizona, once a COVID-19 case growth leader, is now seeing cases decreasing.
Globally, there are 16.264 million cases reported with 648,966 deaths. Since June 27, one month ago, more than 6.436 million cases of COVID-19 have been reported. As we can see in the chart below, the growth in cases in some countries has been quite rapid: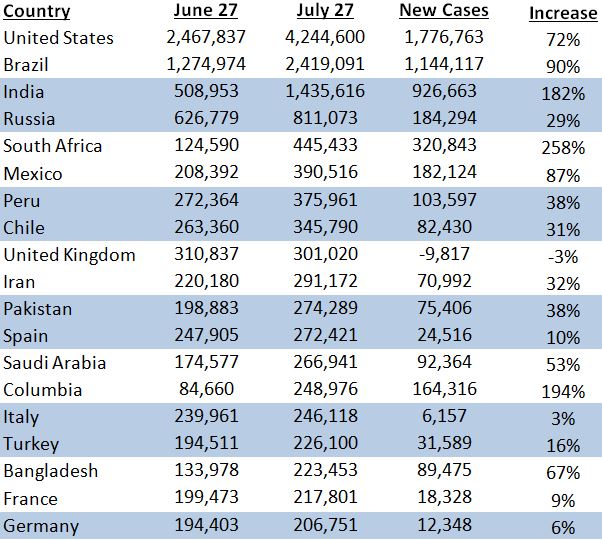 Some of these rates of growth are just huge. (As we have stated before, there is an unknown error in the UK numbers. We believe they lowered their count in early July.)
It's Here to Stay
We'll repeat one of our common refrains: The Coronavirus is here to stay. It's not going away and there is no quick cure. You need to learn how to live with it, to protect yourself while going forward with your life. Self-quarantine where appropriate, avoid crowds, and protect any elderly or immune-suppressed individuals.