The globe just catapulted to over 31 million cases of COVID-19 after surpassing 30 million three days ago. Deaths have climbed to 961,301. You can see how the countries with the biggest increases performed over the past week, below: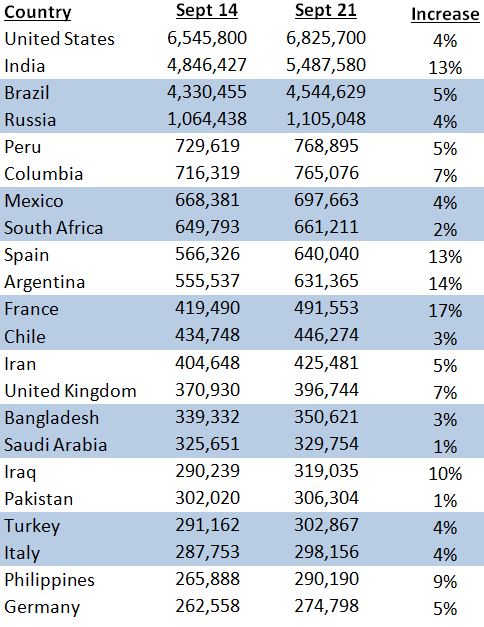 If you compare the above to last week's numbers, you will note that Mexico passed South Africa while France leapfrogged Chile and Iran and Iraq jumped over Pakistan and Turkey. new lockdown measures are being discussed in the UK and other countries.
As we reported yesterday, India continues to show the biggest gains in raw numbers (500K) while France is showing the fastest growth rate at 17 percent. Overall, Europe isn't faring well, with the UK inching up to 7 percent growth and Spain holding at 13 percent.
U.S. Cases
While the U.S. held steady with 4 percent growth for the week, there were 36,401 cases of coronavirus infection reported in the past 24 hours. Just 213 deaths were reported for a total of 199,300, meaning the country will hit 200,000, a number Joe Biden erroneously as "200 million" in a recent speech, leading to quite a few jokes and some amusing Twitter comments.
Debate about when the first vaccine will be developed continues to rage in the media, spurred in part by President Trump's aggressive estimates. While a vaccine may be ready by year end, the real questions are how many does will have been produced. Howe effective will it be, and how many people will risk taking it?