It's been an active week on the coronavirus front. The world added 2.5 million cases in the past week, a record number helped along by days of record growth in the 350,000 to 360,000 range. The U.S. climbed 348,000 to just a tad under 3.8 million and saw multiple days of growth above 50,000. The U.S. had not seen that much growth case growth since the surge in August. New clusters are emerging all over the U.S as the New York Times reports cases are growing in all but ten states.
While the world seems to be heading into its second peak, the U.S. appears to be climbing up its third.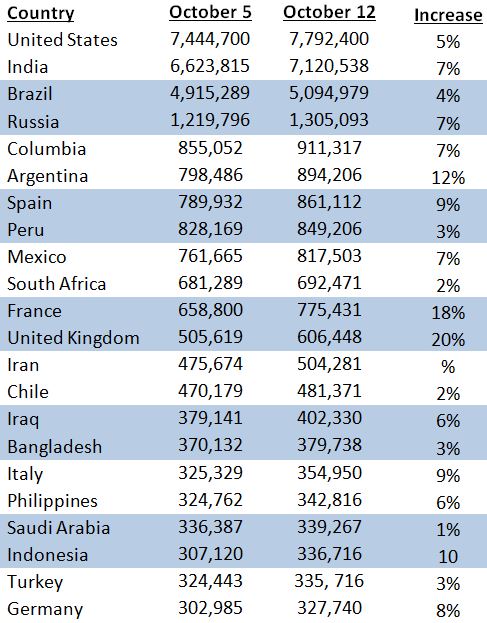 Yesterday, India passed the 7-million cases mark, with about 500,000 new cases in the past week. While much of the news is about virus growth in Europe, South and Central America remains a troubled spot. Brazil, Columbia, Argentina, Peru, and Mexico make up half the top ten.
The United States, Russia, Mexico, France, the United Kingdom, Italy, and Germany all saw their rate of growth increase. Surprisingly, Spain saw it drop one percent while India dropped two percent.
Growth in Europe
While the U.S. saw about 57,000 cases reported on Friday, some 18,000 were reported that day in France, which has one fifth of the population of the U.S. The mayor of London said another lockdown is "inevitable" as hard-hit countries and cities across Europe institute new measures in an attempt to reduce the spread. German officials are worried that the virus could spread "uncontrollably" (Uh, isn't it already?) even though they have one of the lowest growth rates among their peers.
While lockdowns and shutdowns may stop the spread of the virus, at what cost? And how likely is the virus to come back once these measures are relaxed? If Europe and New York are any example, the answer is very likely. Having lived through the first shutdown, can we really justify a second? In my mind, the answer is clearly a resounding "no."
The Great Barrington Declaration
If you haven't seen or heard of the Great Barrington Declaration, I recommend you read it. (It's only one page – a short read.) This is the common sense approach we have espoused here for months: Protect the elderly and those with health issues, but let the rest of society go on about its business.
How do we know this document is of critical importance? Because Google has worked to downplay the Great Barrington Declaration in its search results and Reddit has censored discussion about it. And when the left and their technology cohorts start censoring opinions, then you know someone thinks the opinion is both credible and contrary to their propaganda.
Complicating matters even further, the World Health Organization (WHO) has started to tell world leaders not to use lockdowns.
Shutting down the country the first time may have been an honest attempt to keep hospitals from being overwhelmed and to flatten the curve. It certainly allowed us time to learn, to get better and defeating the virus and lowering the death rate. So now that it is lower, let's not over react. Let's protect the vulnerable while the rest of us go about our lives.
Any politician that does anything else is trying to control you, doesn't think you can be trusted to manage your own health, and is acting in contrary to the Constitution. Lately, more and more courts are reminding governors that their executive powers have limits, both in their duration and their breadth.
As election season rolls around, it will be interesting to see what voters think of the politicians who shut down churches and small businesses while letting protesters and big corporate stores remain open.
---
If you found this article interesting, you may wish to read last week's COVID-19 roundup.