In a reversal that probably surprises many who expected a New Year's surge of Coronavirus cases, the number of reported COVID-19 cases in the United States took a sharp downward turn in the past week. After peaking at more than 280,000, the country's 7-day moving average has dropped to 219,000, a decrease of more than 20 percent. Deaths, which are a lagging indicator, appear to have leveled off.
In he U.S., which has a total of 23.9 million cases, 169,641 were reported in the past 24 hours. There were also 1,730 deaths reported for a total of 397,612.
Like the U.S., the UK has also experienced a steep decline in reported cases, while cases in Germany, Italy and much of Europe continued their multi-week drop. We can see in the declining growth rates shown in the week-over-week table below: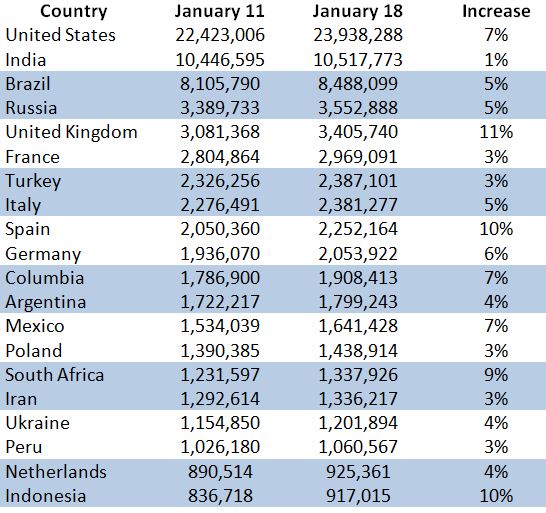 In the past week, South Africa is the only country that moved up on our chart, overtaking Iran. Spain, Mexico and Peru are the only countries out of the 20 listed that saw an increase in their growth rate.
Why the Drop Off
The big question, is why the sudden decline in U.S. cases after a winter that looked like it might be one giant COVID-19 peak?
If the Holiday Peak existed, is it behind us? Nationally, numbers peaked on the 8th, meaning if a peak existed, it was short-lived.
Is it because of social distancing and lockdowns? This may have some impact, especially in Europe where lockdowns have been long and harsh. However, much of the U.S. decrease appears to be in the Midwest where there has been little appetite for lockdowns.
The New York Times reports cases are dropping in states like Kansas, Indiana, Nebraska, Missouri and the Dakotas. New York's cases seem to be leveling off, but they have not yet turned downhill, peaking at almost 20,000 on January 14. Likewise, the 7-day moving average in California is experiencing ups and downs with more time needed to confirm a downward trend. These states, where there are strict lockdowns are in contrast to Florida, which is largely open, where the 7-day moving average has plunged since January 10.
Is it because of the vaccine? That's a question that merits serious consideration, and may well be the case. If a large portion of cases were coming from nursing homes and elder care facilities, then the early vaccination efforts in these locations may well be showing signs of success. If this is the case, we should see cases continue to drop with now additional wave as vaccinations continue to roll out to new populations. Also, the steep drop off in Florida seems to support this premise as Florida has reportedly had a successful vaccine roll out while California has had one of the worst.
Is this just another natural peak and valley? It is too soon to tell if there will be additional "waves" where COVID-19 cases rise up to a peak and then drop off. Different parts of the country (and the world, for that matter) have experienced two or three waves as the virus has progressed through their population at different times. The only way to know for sure will be to see if there is another wave.
Time will Tell if Good News Lasts
Whether you believe the vaccine is safe or not, whether you wish to take it or not, it may be hard to argue its effectiveness. It will take more data, and more time, to know for sure. For example, as the vaccine is being rolled out to the elderly first, we should see the percentage of cases, hospitalizations and deaths in the 70-and-up age group decrease.
Of the 30 million doses distributed to the states through last Tuesday, according to Fortune magazine, only about a third actually made their way into the arms of recipients. Only 2.8 percent of the population has received one shot. If the vaccine is as effective as the clinical trials report, I would expect we see the number of cases continue to drop at an increasing rate. And that is good news for all of us.
---
For more information, compare this week's data to last week's report.