The good news is that numbers of COVID-19 cases in the United States continue to drop, as do hospitalizations. Deaths have been holding steady, although some states he peaks in the past week. Overall, however, the data is very good, showing that the peak is well behind us as the number of daily cases retreated to an average of 165,000 in the past week, about where we were in mid-November.
In the past 24 hours, the U.S. reported 111,478 new cases of COVID-19 and 1,875 additional deaths. Hospitalizations have dropped under 100,000 to 95,013, down from a high of 130,000 just three weeks ago.
The bad news is that vaccination is still not going as fast as hoped and vaccine makers are proving incapable of manufacturing and distributing the vaccine as fast as they had originally promised. Compounding this new is concerns that the vaccine may not work as well against new variants of COVID-19 including one from South Africa which is reportedly prevalent in Brazil and was recently identified in in South Carolina and Maryland.
New Mask Rules
The CDC has ordered passengers to wear a double layer mask (or two masks) when traveling on public transportation in the U.S. and has specifically ruled out wearing scarves and bandanas. Meanwhile, the airline industry is pushing back against the Biden administration's planned order to require all passengers to be tested for COVID-19 before flying. They see the additional economic damage an order like that would do, even if the new administration doesn't. It would not surprise me if the same people who wanted to vaccinate detainees in Guantanamo Bay came up with this idea which would only work if you gave the airlines millions of instant tests.
Speaking of dumb rules, Los Angeles County has re-opened for outside dining but prohibited TV viewing. Apparently, they don't want crowds watching the Super Bowl, even if they are outside. The county health director also warned Los Angelenos not to throw Super Bowl parties. They don't want the Super Bowl to be a Superspreader event.
Global Numbers
Cases are also dropping in Europe, and various countries continue to clamp down on travel and gatherings, with curfews and lockdowns.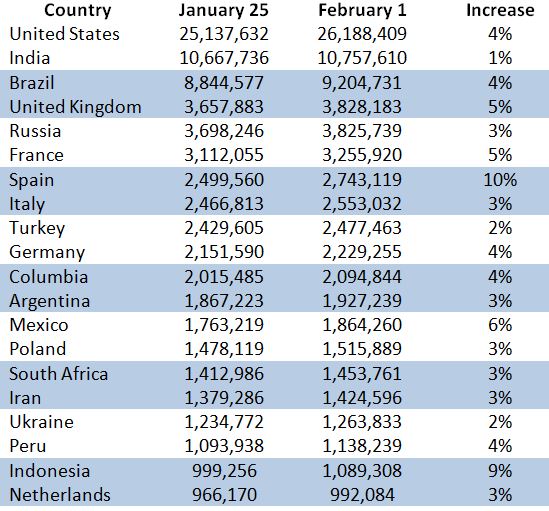 The UK has leapfrogged Russia to move into fourth place on the list of countries with the highest number of COVID-19 cases. That was the only change in ranking, although it is notable that Indonesia exceeded 1 million cases, as expected. All the countries held steady or saw the number of new cases drop, with the exception of Peru.
---
To put this data into perspective, you can check last weeks report or the report from four weeks ago when COVID-19 cases were accelerating.