The number of new COVID-19 cases in the United States grew this past week for the first time since the early January. Cases increased 12 percent over the past 14 days, according to the New York Times. I'm not going to call this a trend until we string together another couple weeks of increases, but we may have just seen the low point.
The number of hospitalizations and deaths continued to drop, although the drop in the number of patients hospitalized due to COVID-19 appears to be slowing. It will interest me to see if the increase in vaccinated people results in a lower percentage of hospitalizations and deaths if the number of positive cases rises. By inoculating most of the elderly population, where deaths mere the most common, you would expect that number to drop.
There are several questions right now, and it is probably premature to answer any of them:
Is this the beginning of a new wave?
If so, is it caused by new variations?
Are people who have been vaccinated getting sick?
If so, are these people getting mild or severe cases?
What geographical trends are we seeing in this uptick?
Are states with lower rates of vaccination seeing more cases?
Brazil Remains the Worst Hit
According to this article by the Associated Press, Brazil accounts for one fourth of the global deaths attributed to COVID-19 each day. They could soon hit 4,000 dead per day. While the U.S. exceeded the 4,000 mark several times in January, its average remained below 4,000. On Friday, Brazil reported 3,650 deaths and the U.S. reported 1,260. At the rate things are going, Brazil may see more total deaths than the U.S. by year's end, even though their population is only two-thirds as big.
Europe Still Struggling
Here is the latest table showing the week-over-week growth in COVID-19 cases for the 20 countries with the most cases.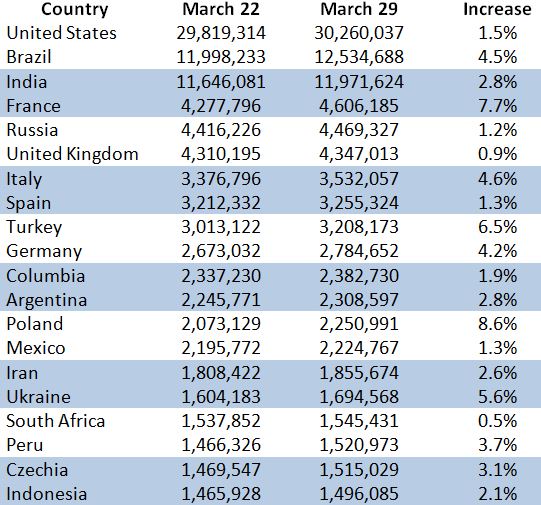 In terms of movement, France passed both the UK and Russia, jumping from sixth place last week to fourth place this week thanks to a 7.7 rate of new cases, or more than 50,000 per day. Poland also went up a place, overtaking Mexico, while Peru overtook Czechia. With a growth rate of 8.6 percent, Poland has the largest rate of case growth on the list. India, which holds on to third place by a significant margin, also saw cases increase last week.
Vaccine Update
A third of Americans have received at least one dose of the vaccine. I am hearing reports of more and more places that will give the vaccine to anyone who makes an appointment rather than limiting doses to select demographics. It appears that in some locations, the rationing has ended and now the difficulty lies in convincing the unvaccinated to accept the vaccine.
In Europe, it's very much the opposite. The problem is not just getting sufficient supplies of the vaccine, but fighting with the bureaucracy to get it into people's arms in a timely manner. This article in the Wall Street Journal details that to get a shot, Germans must schedule an appointment, but can do so only after getting a letter in the mail. Let's hope their postal system in in better shape than ours.