COVID-19 cases ticked upward in the past week, with an 11 percent increase in reported cases over the past 14 days. Hospitalizations also were up by 9 percent. But you'd have a tough time noticing the change as the media is largely ignoring the story.
Funny how they TRUMPeted ever piece of bad news in 2020, but in 2021 they remain silent.
Speaking of trumpeting, the Drudge Report was trumpeting the news that research from Israel shows that the Pfizer vaccine is less effective against the South African variant. (The actual article is more tempered than the Drudge Headline, seen above and says a larger sample size is needed to be sure.) But the nightmare that new variants can do an end run around the vaccine seems to be one step closer to being true.
I'm going to go out on a limb and say the chances are at least 1 in three that we will see another wave of COVID-19 cases in he U.S., although I expect it will only rise to about half the height of our January peak. That's not good, but it is far better than Europe is experiencing. It could also be bad for summer vacations, spending on travel and leisure, and back to school.
Global Data
Globally, the numbers one day last week were just 5 percent shy of the peak in January. When you consider that the U.S. is down 180,000 cases per day since then that means some other countries are accounting for 130,000 new cases.
Lockdowns are being implemented or strengthened across much of the globe, including India and Argentina.
Here's a look at week-over-week data: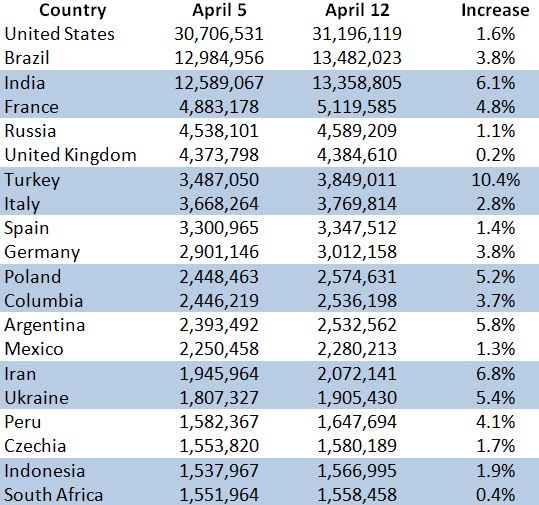 On this week's chart, Turkey climbed another notch, passing Italy to take seventh place among the 20 countries with the most reported cases of COVID-19. Indonesia also jumped a sport from number 20 to 19. With new cases rising at a rate of 10.4 percent per week, Turkey not only leads the chart but will exceed 4 million cases this coming week.
Also of note, India and Brazil both climbed to more than 13 million reported cases, Germany passed 3 million cases, and Iran exceeded 2 million.
Despite Turkey's big jump in cases, most of Europe saw a decrease, including Germany, Italy and Poland.