When I was looking for a pneumatic staple gun to shoot 18-gauge narrow-crown staples into my beehive frames and other hive components, I tracked down the least expensive one I could find: The Central Pneumatic 2-in-1 Air Nailer/Stapler from Harbor Freight. It cost only $29.99. The comparable product from Porter-Cable is $99, or more than three times as much. The Makita version is $120—four times as much.
I would not describe myself as cheap, necessarily, but I do like to save money when my life or livelihood are not at stake. I don't need to show off by buying expensive tools because very few people are ever going to see them. Keep in mind, I'm not going to the job site; I'm hanging out in my garage or backyard. Plus, I bought a box of 2,500 staples, I'll be surprised if I use them all and need a fresh box. Perhaps a Mikita or another high-end brand tool would outlast this one, but after spending $30, I am satisfied that I got my money's worth.
I have observed that Harbor Freight's products have improved over the past five or ten years. They are serviceable and get the job done. For example, I recently bought my paint sprayer there, and it also gotten the job done.
I bought the DeWalt staples because the quality of the staples is more important to me than the gun. I'm going to use that gun a few times a year, but those staples I want to hold forever. At $14, they cost half the price of the gun.
First Impressions
The stapler was well packaged with an instruction manual, two warning labels (one of which is a reminder to add oil), an instruction manual, and two hex wrenches. I'm not sure what the latter are for, as I have not needed them.
It's a relatively lightweight device, and if you have ever used a brad nailer or similar pneumatic tools, it should be very intuitive. The loading latch looks robust and a strip of staples slide right into place.
I should note that this gun doubles as a brad nailer using 18-gauge brads up to 2 inches long. Because I have a dedicated 18-gauge brad nailer and a separate 16-gauge brad nailer, I have not bothered to try this model with 18-gauge nails of any length.
Usability
I have a six-gallon "donut" style Craftsman air compressor, so I hooked everything up, set the regulator to 130 PSI, added a couple of drops oil in the valve, dropped a row of staples into the gun, and tried a couple of test shots by stapling an of bit of half-inch plywood to a random chunk of 2×4. Pow, pow, pow. Three staples in just about as many seconds. Smooth. Surprisingly quiet. Powerful. Maybe too powerful. I dialed the regulator down to just under 100 PSI and tried a few more. Now we were cooking with gas, or nailing with air.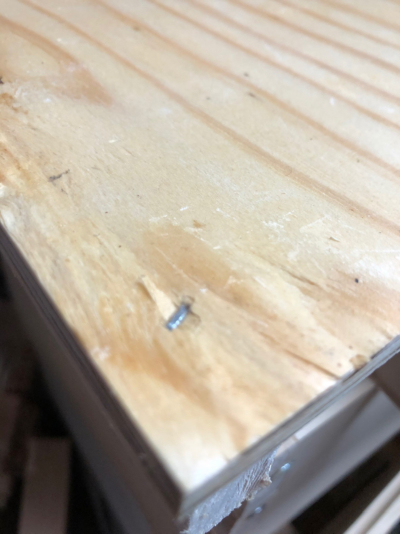 The stapler was easy to use and did not jam as I worked my way through 96 staples. It recovered and allowed me to staple again and again as fast as I could press the nose to wood and pull the trigger. It never double-tapped, which the air gun I used just a couple weeks ago had a tendency to do.
Most importantly, it was easy to aim, and the staples went right where I wanted them to each time. I never had one shoot out at an odd angle, and only one of them wasn't driven in all the way. But it only stuck up about an 8th of an inch, and I tapped it in the rest of the way with a hammer. I don't know if this was user error, a tough piece of wood, or a failure by the tool, but it wasn't a big deal.
I can't imagine stapling a 1-1/2-inch staple by hand. Sure, I've nailed fence staples into fence posts. I've held cables and wire in place with wiring staples, but pounding a narrow, two-prong staple into a thin piece of wood? Without an air gun, I'm at a loss. Do they even have a manual tool to do that?
Power Tools
The first time I saw a contractor plug in his compressor and use a brad nailer to attach some trim to a doorway, I knew I had to have one of those. No need to use a nail punch to avoid leaving hammer dents that needed to be filled in. The brad sunk so far into the wood that you could barely see the hole.
At the time, air tools represented a new horizon for me. I had graduated from using plug-in power tools and long extension cords to portable tools powered by 18-volt and 40-volt batteries. That brad nailer was my first foray into pneumatic tools. Now I have four different pneumatic tools, and they allow me to be very efficient and productive.
Rating

Pros
Inexpensive
Easy to load and use
Did not jam
Lightweight
Uses either 18-gauge narrow-crown staples and brads
You can redirect the exhaust air away from you
Cons
You cannot reload a full strip of 100 staples when you are running low but have to wait until it is completely empty
The trigger is not adjustable
Does not allow you to select between sequential and contact modes
Has a warranty of only 90 days
---
Disclaimer
I purchased this stapler at the current sale price and received no compensation or incentives from or Harbor Freight or any other third party for this review. I am not an affiliate of Harbor Freight. All opinions are my own and the data on the stapler's capabilities were gathered from the box, instruction manual, or harbor freight website.
This tool drives sharp pointed objects into wood with force and can be dangerous. Keep fingers and other body parts out of the path or potential path of the staple or brad. Read all instructions and take all recommended safety precautions when using this or any nailer or stapler.