The number of reported coronavirus cases in the U.S. increased for a third consecutive day, growing to 867,105. The 32,765 increase marks a growth rate of 3.9 percent. According to data compiled by the New York Times, the number of deaths attributed to COVID-19 in the past 24 hours dropped under the 2,000 mark to 1,960, an increase of 4.6 percent. While the curve may have flattened, the downward trend we expected to see is failing to materialize.
This slow upward trend in caseloads may be because of an increase of testing, but it may be also be attributed to cases in meat packing plants, prisons, nursing homes and other institutions. Recent outbreaks in meat packaging plants in South Dakota and Nebraska account for a significant portion of those state's cases while prisons in Marion and Pickaway account for more than a quarter of Ohio's cases.
So far, the lack of a downward curve does not seem to be impeding individual state's reopening plans. As we said before, the states that reopen first will no doubt be important test cases for those that come later.
Global COVID-19 Cases
Globally, cases were up 70,000 to 2.729 million, an increase of about 2.6 percent. But what is a somewhat shocking is that the U.S. accounted for 46 percent of the global cases.
Here's a look at the growth in the global numbers over the week ending yesterday: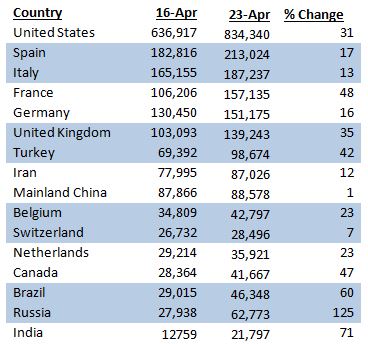 While you can see that Italy and Spain, where the coronavirus once spread at a record braking pace, have successfully slowed their epidemics, France, the UK, Canada and Turkey have been less successful. Emerging from the pack as new hotbeds are Brazil, Russia and India, with Russia's case growth more than double that of Brazil.
Again, we must always remember that these are reported cases and numbers vary based on the availability of testing. As the Washington Post reports, cases are being under reported and the reality is "significantly worse:"
Imprecise and insufficient testing is a global problem, but in Brazil, it's on an entirely different scale. Latin America's largest country is testing people at a rate far lower than any other nation with at least 40,000 cases. It tests 12 times fewer people than Iran. Thirty-two times fewer than the United States. Hospitalized patients aren't being tested. Some medical professionals aren't being tested. People are dying in their homes without being tested.
Sun and High Temps
At yesterday's White House Press briefing, the Department of Homeland security presented data that shows the virus is killed by sunlight, high heat and humidity, which means transmission may be slowed in summer months.
Generally speaking, the UV component of sunlight can kill ALL viruses, but the length of exposure and effectiveness may vary. Still, this news buoyed hopes that the caseload may drop over the summer. It also means that reopening Florida's beaches may not be as dangerous as some have feared. Whether it will negate the spread of infection as Southern states like Georgia and Texas reopen remains to be seen.
To put today's data in perspective, take a look at yesterday's news and numbers as well as those from a week ago.