Reported cases of COVID-19 in the U.S. grew by 32,617 over the past 24 hours to 1,045,300, an increase of 3.2 percent. The curve continues to remain fairly flat, with a very slight downward slope. The U.S. has now conducted more than 6 million tests, and the high testing rate is contributing to the continued pace of new cases.
The New York Times, whose data we rely on for these reports, has added 5,600 probable or highly likely COVID-19 deaths to its U.S. numbers, bringing its reported COVID-19 deaths in the U.S. to 60,945. This does, however, present a challenge when comparing data over time. If we subtract the 5,600, we see deaths rose 2,317 in the past 24 hours.
Globally, cases hit 3.222 million, up 83,000 in the past two hours, with only about 10,000 new deaths, bringing the global total according to Johns Hopkins to 228,757, an increase of 4.7 percent.
Global Growth Patten Changes
Here's a look at how the spread of the coronavirus has changed since last week: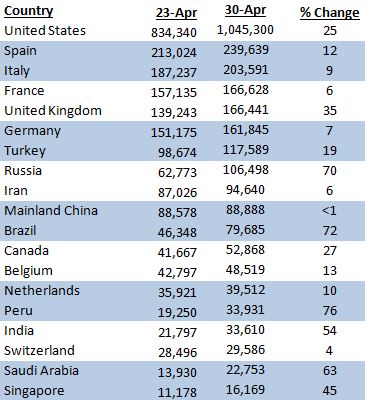 Russia has quickly climbed up the chart, surpassing 100,000 cases while Brazil also saw a significant increase. The UK continues to struggle with is case rate. India, Peru, and Saudi Arabia bear watching as the virus appears to be gaining a stronger foothold in these countries, which are early in their curve. While Singapore did an outstanding job of controlling their cases early in the outbreak, large rates of infections among guest workers, many of whom live in crowded dormitory settings, have resulted in a rebound that is quickly exceeding their initial case load.
A surge in the Southern Hemisphere does raise the question as to whether cooler temperatures aid the spread of coronavirus and we will see some seasonal aspects to the Wuhan Flu.
To put these numbers in perspective, you can review yesterday's news and numbers or look back a week ago.