The number of reported COVID-19 cases in the U.S. has reached one million, reaching 1,012,683, an increase just shy of 25,000, or 2.5 percent, in the past 24 hours. Deaths increased by 2,225 to 53,034, an increase of 4.3 percent, and the highest number in a week.
Globally, cases reached 3.139 million with there have been 218,456 deaths. As we have reported previously, intelligence experts believe the numbers reported by China were heavily redacted for political purposes, with more 45,500 dead in Wuhan alone and 100,000 dead across the country. Iran also is suspected of reporting only a tenth of its dead.
Once again, new York State was down in cases, testing, hospitalizations, intubations and deaths. As you can see in the lead graphic, they have succeeded in not only flattening the curve, but are well on the downward slope.
Results Vary by State
In its latest data update, the New York Times is listing states and protectorates where new cases are increasing (22) , states where cases have leveled off (20) , and states where new cases are decreasing (11). (The numbers amount to more than 50 due to Washington, D.C., Puerto Rico and Guam.)
While one might reasonably argue that a number states in the "Mostly the same" category should below in the "Decreasing" category, it's hard to argue with the states showing places where cases are increasing. The upward curve in Illinois, Iowa, Minnesota, Nebraska and Kansas are surprisingly steep.
Here's an updated chart showing week-over-week growth, with the arrows in the right-most column showing whether the rate of change has increased or decreased from the prior week.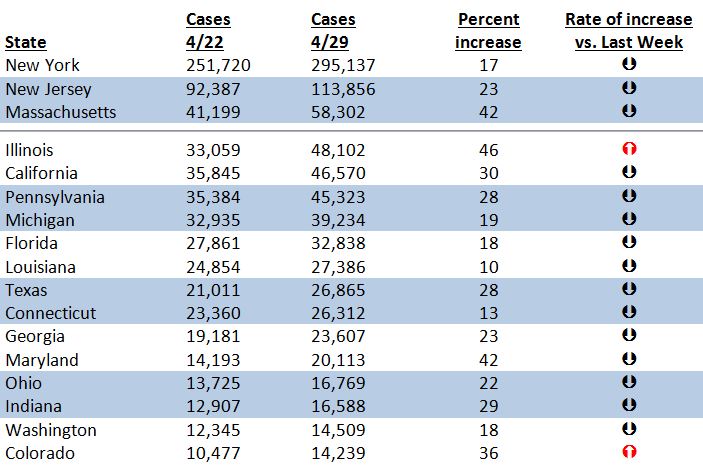 What this shows us is that in these states with the most cases, growth is slowing in all but Illinois, which has moved up two spots, and Colorado.
Reopening States
Here's a look at states that have partially reopened and whether they are reated as decreasing, stead or increasing:
Georgia, cases decreasing
South Carolina, cases steady
Tennessee, cases increasing
Oklahoma, cases steady
Colorado, cases increasing
Montana, cases decreasing
Alaska, cases decreasing
It should also be noted that Montana and Alaska, with 451 and 349 reported cases, respectively, are among the states with the very lowest case count overall.
States that plan to let their reopening order expire after tomorrow, meaning the will at least partially reopen on May 1, include:
Florida, cases decreasing
Alabama, cases steady
Texas, cases steady
Arizona, cases increasing
Nevada, cases steady
Idaho, cases decreasing
To put these numbers in comparison, you can check yesterday's report or look back a week.