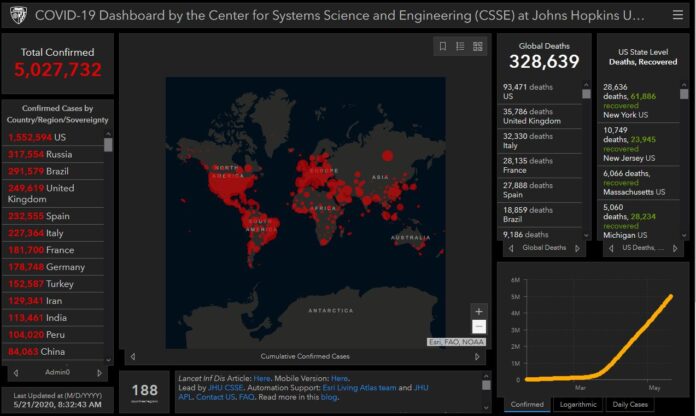 Approximately five months after the first cases were discovered in Wuhan, China, the novel coronavirus thought to have originated either in a local fish market or to have escaped from a local laboratory has infected more than 5 million people that we know of and possibly several times that. The data from Johns Hopkins shows 5.027 cases. The total number of cases on April 21 was 2.948 million, meaning the number of infections has doubled in the past 30 days.
The number of global cases increased by 100,000 i nthe past 24 hours, the largest single day increase ever. This jump to 100,000 new cases is attributed to a continued increase of cases in Russian and Brazil which have second and third most infections, behind the U.S.
In the U.S., reported cases of coronavirus climbed 22,900, or 1.5 percent, in the past 24 hours to total 1,559,300. Deaths attributed to COVID-19 were up 1,471 to 93,408, an increase of 1.6 percent.
State Reports
Overall, the growth of cases in the U.S. continues to decline. Here's how The New York Times sees the performance of each state:

Here's how our week-over-week state-by-state report looks for the week ending yesterday: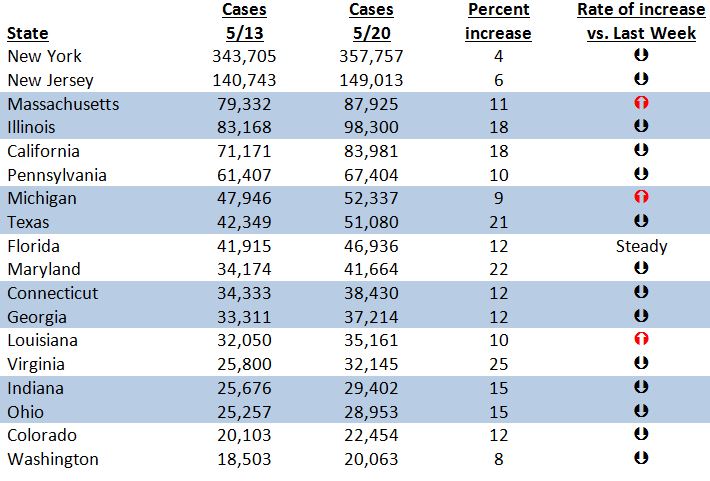 As you can see, cases continue to drop in the majority of states, including those that have been aggressive about reopening. This late in the pandemic, U.S. states that show an increase are often seeing new cases due to increased testing rather than an increase spread of infection.
---
To put this in perspective, we encourage you to look at our report from yesterday or a week ago. You can also look at the April 21st report, when there were less than 2.5 million cases globally.